Marsha Wedgeworth Blackburn
Marsha Wedgeworth Blackburn
House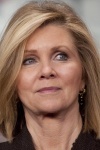 Birthdate: June 6, 1952
Birth Place: Laurel, MS, United States
Residence: Brentwood, TN
Religion: Presbyterian
First Elected: 2002
Gender: Female

Candidacy
Party: Republican
State: Tennessee
Office: House
District: District 7

Education
Undergraduate: Mississippi State University
Degree: BA

Marsha Blackburn was born in Laurel, Miss., and now lives in Brentwood, Tenn. She received a bachelor's degree from Mississippi State University.
She has been involved in politics since 1977, when she helped found a Young Republicans chapter in Tennessee's Williamson County.
She ran unsuccessfully for Congress in 1992. She was executive director of the Tennessee Film, Entertainment and Music Commission prior to her election in 1998 to the state Senate from the 23rd District.
As a Tennessee state senator, Blackburn was an outspoken opponent of efforts to implement a state income tax, and she largely based her campaign for Congress on that.
She was elected to the U.S. House in 2002.
Blackburn and her husband, Chuck, have two children.
Profile
Marsha Blackburn is considered one of the most conservative members of Tennessee's congressional delegation and has become a leader for state Republicans. She has served on the whip team for House Republicans since her first term in Congress and frequently appears on cable TV news shows to represent her party.
Blackburn was selected by the House Republican leader to participate in President Barack Obama's health care summit in 2010. She was a vocal opponent of the 2010 health care reform bill.
"There is no way to 'fix' this hopelessly broken law. It's time for Congress to admit Obamacare was a mistake and give the American people what they want _ a chance to start with a clean slate on real health care transformation," she said after the Supreme Court upheld the law in June 2012. "We must repeal Obamacare and work step-by-step to replace it with real solutions that work."
She voted against the auto and bank bailouts in 2008 and opposed the 2009 approximately $800 billion economic stimulus package, saying it was destined to become a curse on future generations.
"As it stands, there are no new jobs in this bill, no new ideas, just new spending. The only thing this bill stimulates is the national debt," she said.
Blackburn has joined the Republicans in calling for reducing regulations, cutting taxes and increasing incentives for investment. She was the only member of the Tennessee House delegation to vote in 2009 against imposing hefty taxes on bonuses to executives of companies bailed out by taxpayers.
After government agents raided Tennessee-based Gibson Guitar Corp. to seize illegally imported wood and the CEO condemned it as heavy-handed, job-killing government regulation, Blackburn invited him to join her and House Speaker John Boehner for a 2011 speech to Congress by Obama.
She also joined Tennessee Democratic Rep. Jim Cooper in introducing federal legislation to ensure that owners of vintage musical instruments wouldn't face prosecution for unknowingly possessing exotic materials now banned for import.
Blackburn has been an outspoken critic of federal rules that are phasing out incandescent light bulbs, issuing a statement in late 2011 that she was using the bulbs as Christmas stocking stuffers.
As a state lawmaker, Blackburn opposed abortion and a state income tax and backed gun legislation sponsored by the National Rifle Association.
Blackburn continued these stances in Washington, but her district includes parts of Clarksville, home to many soldiers stationed at nearby Fort Campbell, thus prompting her to spend much of her time on military issues.
Blackburn stood behind President George W. Bush's 2007 plan to increase the number of troops in Iraq. She voted against a non-binding resolution that disapproved of the president's strategy.
Blackburn has had a series of problems with campaign finance reporting during her time in Congress and had to revise her filings in April 2008 to lower them by $164,000. Her bank also placed her home into foreclosure, but officials claimed it was a processing error.
She was criticized in 2012 by Citizens for Responsibility and Ethics in Washington for using campaign funds to hire family members.
Source: Associated Press