Matthew 'Matt' A. Cartwright
Matthew 'Matt' A. Cartwright
House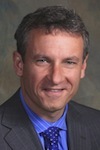 Birthdate: May 1, 1961
Birth Place: Erie, PA, United States
Residence: Moosic, PA
Religion: Roman Catholic
Gender: Male

Candidacy
Party: Democratic
State: Pennsylvania
Office: House
District: District 17

Education
Undergraduate: Hamilton College
Degree: BA

Graduate: University of Pennsylvania
Degree: JD

Matt Cartwright was born in Erie, Pa., and resides in Moosic. He received a bachelor's degree from Hamilton College and a law degree from the University of Pennsylvania.
He is a partner at the personal injury law firm Munley, Munley and Cartwright, where he has been practicing for more 20 years.
In 1992, Cartwright was an elected delegate to the Democratic National Convention.
Cartwright is a member of the board of governors of the American Association of Justice. His community involvement includes working with the Boy Scouts of America, Rotary International and the Hope Center Legal Clinic.
Cartwright and his wife, Marion, have two children.
Profile
Matt Cartwright won the Democratic nomination for northern Pennsylvania's 17th Congressional District, defeating the 10-term incumbent, Rep. Tim Holden, in the April 2012 primary. He will face tea party advocate Laureen Cummings in the November general election.
Cartwright's campaign hit Holden with allegations that he was too conservative for the district's voters, citing his vote against the 2010 health care reform bill.
Additionally, in the newly redrawn 17th District Democrats now outnumber Republicans by 24 percentage points; the GOP had held a four-point registration edge in Holden's current district. Those voters supported Holden, a member of the Democratic Blue Dog Coalition in Washington, which includes moderate and conservative Democrats lobbying for greater fiscal responsibility.
Assessing his victory over Holden on primary night, Cartwright said, "It's a combination of things, No. 1, the redistricting, and No. 2, my own core political beliefs are a much better fit for the new district." Holden was considered one of the most moderate of House Democrats.
Cartwright supports the 2010 health care reform bill, although he feels the legislation did not do enough to expand insurance coverage and hold insurance companies more accountable for costs. He called the July 2012 vote, pushed by House Republicans, to repeal the legislation "political posturing" that is taking the focus away from other key issues such as job creation.
He advocates for more funding on education programs, especially for younger children. He applauded the June 2012 decision by Congress to halt the scheduled increase in student loan interest rates.
Source: Associated Press