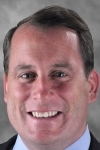 Birthdate: July 16, 1970
Birth Place: Jersey City, NJ, United States
Residence: Watertown, NY
Religion: Catholic
Gender: Male

Education
Matt Doheny was born in Jersey City, N.J., the son of a traveling salesman. He was raised in Alexandria Bay in upstate New York and now lives in Watertown.
He earned a bachelor's from Allegheny College and a law degree from Cornell University in 1995. He practiced law in Syracuse, N.Y., for a short time after his graduation.
Doheny managed distressed assets for Deutsche Bank in New York City before going to work for Fintech Advisory in Watertown. He started North Country Capital in 2010 to lend money to start-ups and working capital to businesses that want to expand.
Matt and his wife, Mary, were married in June 2012.
Profile
Matt Doheny is challenging incumbent Democratic Rep. Bill Owens for the second time in two years _ this time without the threat of a third-party candidate splitting the vote.
Owens beat Doheny in 2010 in a three-way race that included Conservative Party candidate Douglas Hoffman, who secured more than 10,000 votes even though he officially quit the race. Doheny lost to Owens by 1,995 votes.
This time the long-time businessman has locked up the Conservative Party line. Doheny easily won the June 2012 Republican primary and also has the Independence Party line.
New York's newly constituted 21st Congressional District comprises the state's vast and mostly rural northern region, including the Adirondacks, Watertown and Plattsburgh. Republicans outnumber Democrats in the district, though Owens has taken conservative stances on gun rights and other issues.
The race is expected to be competitive. Doheny was one of a dozen candidates selected in the inaugural round of the National Republican Congressional Committee's Young Guns program. He has criticized Owens for doing little to reverse "the tax-and-spend mentality" that threatens to bankrupt the country.
Doheny, who has spent years in the financial sector, argues that his private-business experience would serve him well in Congress. He said he would create jobs by making the tax code flatter, fairer and simpler, and he says repealing the 2010 health care reform bill would spur more job growth. He also supports the so-called REINS Act, which would require prior approval from Congress for major new regulations.
"President Obama and his allies continue to stifle growth by pushing an agenda that leads to higher taxes and bigger deficits," Doheny said. "That just creates more burdens for both average Americans and for our future generations."