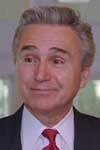 Birthdate: Oct. 27, 1938
Birth Place: New York, NY, United States
Residence: Hurley, NY
Religion: Roman Catholic
Gender: Male

Candidacy
Education
Maurice Hinchey was born in New York City. He earned a bachelor's in 1968 from the State University of New York-New Paltz.
Hinchey served in the Navy from 1956 to 1959 and then worked a variety of jobs, including as a cement plant worker and a tollbooth collector. Hinchey served as an analyst for the New York Department of Education from 1971 to 1974.
He was elected to the New York Assembly in 1974, serving until 1992, when he was elected to the U.S. House.
Hinchey and his wife, Allison, live in Hurley. He has three children from a previous marriage.
Profile
Maurice Hinchey is retiring after a long career as an unabashed pro-union, pro-environment liberal.
He announced in January 2012 that he would retire when his 10th term concludes at the end of the year. Hinchey recently completed treatment for colon cancer, and he told supporters the experience gave him a greater appreciation for his family and friends.
In early October 2008, Hinchey was one of a few members of the New York delegation to vote against the $700 billion Wall Street bailout bill, saying it was a giveaway that won't fix the underlying problems in the economy. He voted with other New York Democratic representatives in favor of the approximately $800 billion economic stimulus bill in February 2009.
Hinchey has become a nemesis of the Food and Drug Administration, charging that the agency has been overrun with policymakers who make decisions more beneficial to prescription drug companies than consumers. He also has repeatedly pushed a law that would legalize use of medical marijuana.
Hinchey's left-leaning views became apparent during his tenure on the Banking Committee, a post he often used as a platform to complain that the needs of average people were being ignored by the wealthy.
"The disparity in income between those at the top and those at the bottom of the ladder is a cancer that will ultimately sap the vitality of our economic system, exacerbating the social problems that are already plaguing our society," Hinchey said in 1993.
He breaks with the liberal wing of his party on gun control. But, like many Democrats, he supports abortion rights.
When Hinchey served in the New York Assembly, he chaired the Environmental Conservation Committee, and he has continued his environmental work in the U.S. House.
Hinchey has pushed to strip anti-environmental riders from federal spending bills, such as one that could delay the cleanup of contaminated sediments in the Hudson River. He has been one of the most strident supporters of forcing General Electric Co. to dredge toxic chemicals from the river bottom north of Albany.
Hinchey's interest in the environment has stretched beyond New York's boundaries. He pushed to turn 5.7 million acres in Utah into federal land and he has voted against opening up portions of the California desert for certain recreational activities.
Source: Associated Press