Max S. Baucus
Senate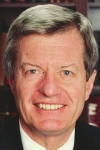 Birthdate: Dec. 11, 1941
Birth Place: Helena, MT, United States
Residence: Helena, MT
Religion: Protestant
First Elected: 1978
Gender: Male

Candidacy
Party: Democratic
State: Montana
Office: Senate

Education
Undergraduate: Stanford University
Degree: BA

Graduate: Stanford University
Degree: JD

Max Baucus was born in Helena, Mont., where he still resides. He attended Stanford University where he earned a bachelor's degree in economics in 1964 and a law degree in 1967.
He worked as an attorney with the Civil Aeronautics Board from 1967 to 1968, and with the Securities and Exchange Commission from 1968 to 1971. Baucus practiced law in Montana from 1971 to 1974.
He was elected to the Montana House in 1973 and to the U.S. House in 1974 and 1976. He was elected to the U.S. Senate in 1978.
Baucus has a son with ex-wife, Wanda. He married former state office director Melodee Hanes in 2011.
Profile
Max Baucus has played an increasingly visible role in Congress, sometimes bucking his Democratic Party on certain issues. He recognizes Montana as fundamentally conservative and its voters as wanting someone willing to base votes on more than party lines.
He insists he's not trying to hide his Democratic bloodlines. "I don't focus on labels," he said. "For me, Montana comes first and partisan labels are a distant second."
Baucus is chairman of the Finance Committee and continues to be a key figure in several important bills, most recently playing a large role in the 2012 highway and farm bills. As is his style, he immediately touted the money and jobs the legislation would bring back to Montana.
Baucus has also used his position to pressure the Defense Department to keep an airplane mission for the Air National Guard based in his home state.
In late 2011, Baucus sponsored the Rocky Mountain Front Heritage Act that expands wilderness area in central Montana. Supporters say the measure aims to freeze use at current levels.
Baucus played a role in the Joint Select Committee on Deficit Reduction that was unable to reach a bipartisan agreement on spending cuts in the fall of 2011.
He helped move the contentious 2010 health care reform bill through the Senate and was the chief author of the jobs-agenda bill that passed in June 2012.
Baucus launched an investigation in late June 2010 into the tax practices of Transocean Ltd., the owner of the Deepwater Horizon rig that exploded in the Gulf of Mexico, leading to the massive oil spill.
Baucus has also been at the center of other congressional battles. He played a key role in the 2003 legislation adding a prescription-drug benefit to the Medicare program, and he helped enact President George W. Bush's tax cuts in 2001.
Baucus considers himself a major player on trade issues and has worked to open foreign markets for beef, wheat and other Montana products. He has traveled to China and he visited Cuba after sponsoring a bill to lift the U.S. ban on travel to the island.
Gun ownership is widespread in Montana and Baucus ran afoul of his constituents during President Bill Clinton's administration when he supported a handgun-control law and a ban on the sale of some assault-style weapons. Baucus later supported allowing those laws to expire in 2004.
Baucus and fellow Democratic Sen. Jon Tester sent a letter in March 2009 to President Barack Obama's administration announcing they would oppose any new gun restrictions under consideration.
Baucus came under criticism in February 2009 when he recommended Melodee Hanes for Montana's U.S. attorney post while he was romantically involved with her. Hanes withdrew her name from consideration and was later hired in 2012 a top official in the Justice Department.
Source: Associated Press