Maxine Waters
House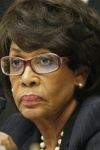 Birthdate: Aug. 15, 1938
Birth Place: St. Louis, MO, United States
Residence: Los Angeles, CA
Religion: Christian
First Elected: 1990
Gender: Female

Candidacy
Party: Democratic
State: California
Office: House
District: District 43

Education
Undergraduate: California State University
Degree: BA

Maxine Waters was born in St. Louis, Mo., and now lives in Los Angeles. She earned a bachelor's in sociology in 1970 from California State University.
She worked before college in a garment factory, a telephone firm and a Head Start program. She volunteered in political campaigns and managed David Cunningham's 1973 Los Angeles City Council race.
Waters was elected to the state Assembly in 1976 and was re-elected to seven consecutive terms. She won election to the U.S. House in 1990.
Waters and her husband, Sidney Williams, a former U.S. ambassador to the Commonwealth of the Bahamas, have two children.
Profile
Maxine Waters' long political career has been characterized by supporting liberal causes and black rights, often in a confrontational manner.
Waters is among the House's most vocal members _ whether it's her criticism of President George W. Bush's actions in Iraq or her descriptions of her South Los Angeles neighborhood during the Rodney King trial _ and she has said her constituents expect her to fill that role.
Waters authored a provision in 2010 that created an Office of Minority and Women Inclusion at the Treasury Department and other federal financial regulatory agencies. The measure aimed to increase diversity at those agencies and among their contractors.
Waters was among Congressional Black Caucus members in late 2009 who added $6 billion in spending for African-American communities to a Wall Street regulation bill. She also advocated for a House jobs bill, threatening to abandon her support for banking regulations.
Waters introduced legislation in 2009 designed to prevent predatory lenders from participating in federal housing programs. She joined fellow Democrats in supporting the 2009 approximately $800 billion economic stimulus packaged backed by President Barack Obama.
Waters was a so-called super delegate to the 2008 Democratic National Convention. She initially endorsed then-Sen. Hillary Rodham Clinton for the party's nomination, but later switched her endorsement to then-Sen. Obama.
Waters sponsored in 2008 the Neighborhood Stabilization Act, which authorizes a $15 billion federal grant-and-loan program to help state and local governments purchase, rehabilitate and resell or rent foreclosed homes.
Waters came under scrutiny in early 2009 and was eventually charged with violating House rules after she helped arrange a September 2008 meeting between Treasury officials and representatives of OneUnited Bank. Waters' husband had served on the bank's board and owned at least $250,000 in stock in the institution.
The chief executive of the bank asked at the meeting for $50 million in bailout money and eventually was awarded $12 million. Waters said she sought the meeting on behalf of the National Bankers Association, a trade group for minority-owned banks. She also said she had no influence over decisions made by Treasury Department officials.
Waters said the investigation by the House Ethics Committee that led to the charges was partisan and flawed. An investigation by the committee was sidelined for a year as an outside counsel looked into those allegations, but the committee took up its probe again in June 2012.
Waters criticized the Bush administration's response to Hurricane Katrina.
Voting rights have long been a concern for Waters, and she was tapped to lead the Democrat-only panel investigating the results of the 2000 elections. Both parties eventually addressed the issues stemming from that year's contested presidential results.
Waters has been a critic of the war in Iraq, condemning the initial impetus for the conflict, and she criticized Bush for not having a clear plan to establish a post-Saddam democracy in Iraq.
Waters' also opposed a House bill that would make it a felony to be in the United States illegally.
Source: Associated Press