Melvin L. Watt
House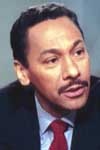 Birthdate: Aug. 26, 1945
Birth Place: Charlotte, NC, United States
Residence: Charlotte, NC
Religion: Presbyterian
First Elected: 1992
Gender: Male

Candidacy
Party: Democratic
State: North Carolina
Office: House
District: District 12

Education
Undergraduate: University of North Carolina
Degree: BA

Graduate: Yale University
Degree: JD

Mel Watt was born in Mecklenburg County, N.C., and lives in Charlotte. He was a Phi Beta Kappa graduate of the University of North Carolina, where he was president of the business honors fraternity. He earned a law degree from Yale University.
He practiced law in Charlotte from 1971 to 1992, during which time he served one term in the state Senate from 1985 to 1986, and was a top lieutenant to Charlotte Mayor Harvey Gantt.
Watt is part-owner of a 120-bed care facility for elderly and handicapped residents and part-owner of a cafeteria and hotel complex in Charlotte.
He and his wife, Eulada, have two grown children.
Profile
Mel Watt has been a reliably Democratic lawmaker, following his party's leadership on major issues such as the 2010 health care reform bill, the approximately $800 billion stimulus package and the financial industry bailout of 2008.
Watt also has reliably won re-election ever since his irregularly shaped district was first formed after the 1990 census and brought in black and Democratic voters from North Carolina's Piedmont. He's only once received less than 60 percent of the vote in a general election.
The 12th District was a majority-black district in 2012, stretching its boundaries to urban centers of Charlotte, Greensboro and Winston-Salem and connected mostly by land along Interstate 85. Watt faces Charlotte GOP activist Jack Brosch in the 2012 general election.
Watt offered an amendment to an appropriations bill in July 2011 that would have reduced funding for the independent House Office of Congressional Ethics. The amendment failed, but the support it received indicated unhappiness with the office, which had irritated several members who were subject to investigations that criticized their conduct. The office in 2010 reviewed activity by Watt and seven other House members about their 2010 votes on a financial overhaul bill. The ethics office recommended no further investigation of Watt and four others.
Watt has become a congressional leader on minority affairs, and was chairman of the Congressional Black Caucus in 2005 and 2006.
Early in the 2008 presidential campaign Watt initially backed his former North Carolina colleague, former Sen. John Edwards, saying he wasn't sure U.S. voters would be willing to back a black candidate such as then-Sen. Barack Obama.
Watt later endorsed Obama after Edwards dropped from the race. After Obama won the election, Watt said he was glad to be wrong.
Watt voted against President George W. Bush's tax cuts and was one of three North Carolina congressmen to vote against the October 2002 resolution that authorized Bush to use military force in Iraq. He was one of two North Carolina congressmen to vote in October 2003 against the $87 billion bill to fund military operations and rebuilding in Iraq and Afghanistan.
Watt used his caucus role as a platform to continue opposing Bush on issues like the federal response to Hurricane Katrina, the nominations of Judges John Roberts and Samuel Alito to the Supreme Court and Bush's domestic surveillance program. He said he believed the surveillance program constituted illegal spying and would have liked to see Bush impeached.
Source: Associated Press