Michael Conaway
House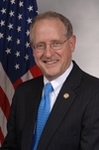 Birthdate: June 11, 1948
Birth Place: Borger, TX, United States
Residence: Midland, TX
Religion: Baptist
First Elected: 2004
Gender: Male

Candidacy
Party: Republican
State: Texas
Office: House
District: District 11

Education
Undergraduate: East Texas State University
Degree: BS

Mike Conaway was born in Borger, Texas, and now lives in Midland. He earned a bachelor's in accounting at East Texas State University in 1970.
Conaway served in the Army from 1970 to 1972 and was stationed at Fort Hood.
He worked at Price Waterhouse, moving to Midland in 1979. From 1982 to 1986, Conaway and George W. Bush were business partners. Conaway served as chief financial officer at Arbusto Energy Inc., which later became Bush Exploration Inc. Conaway started his own accounting practice in 1993.
Conaway was appointed in 1995 by then-Gov. Bush to the Texas State Board of Public Accountancy.
He was elected to the U.S. House in 2004.
Conaway and his wife, Suzanne, have four children.
Profile
Mike Conaway in April 2010 joined nine conservative House members in forming the Congressional 10th Amendment Task Force. The group, a project of the Republican Study Committee, has a Facebook page that says the group is committed to taking power back from Washington and returning it to the states.
A member of the Intelligence and Armed Services committees, Conaway has stated on his congressional website that he supports the goals of the global war against Islamic jihadists.
In January 2012, Conaway stood behind a U.S. soldier arrested at a Texas airport and charged with trying to bring military-grade explosives on a cross-country flight. The soldier said he was a demolitions expert who always carried C4 explosive and that he had simply forgotten it was in his bag. Conaway said he believed the soldier.
"That's the most plausible explanation," Conaway said at the time. "He just forgot about it."
Conaway staunchly opposed the 2010 health care reform bill, saying in a news release that President Barack Obama and House Speaker Nancy Pelosi passed it by "jamming it down the throats of the American people."
Conaway, the ranking Republican on the Agriculture Committee's Rural Development Subcommittee, urged the secretary of agriculture in late April 2010 to reconsider pushing to dismantle producers' financial safety net, which was being considered as early work began on the 2012 Farm Bill.
He opposed cap-and-trade legislation brought to the House floor in June 2009, calling it "disastrous for the American economy and ineffective in improving the environment."
From his work as an accountant, Conaway says he knows the burden of excessive regulations and high taxes. While campaigning for Congress, he pledged to lead the effort to help farmers, ranchers and small business owners by getting government out of the way.
Conaway and President George W. Bush remain social friends, stemming from their days in Midland.
Conaway is an ordained deacon in the Baptist church.
Source: Associated Press