Michael McCaul
House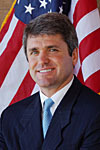 Birthdate: Jan. 14, 1962
Birth Place: Dallas, TX, United States
Residence: Austin, TX
Religion: Catholic
First Elected: 2004
Gender: Male

Candidacy
Party: Republican
State: Texas
Office: House
District: District 10

Education
Undergraduate: Trinity University
Degree: BS

Graduate: St. Mary's University
Degree: JD

Michael McCaul was born in Dallas and lives in Austin. He earned a bachelor's from Trinity University in 1984 and a law degree from St. Mary's University in 1987.
McCaul joined the Texas attorney general's office as a member of the honors program. He worked at the Justice Department from 1990 to 1999, rising to chief of the terrorism and national security section for the Western District of Texas.
He served as a Texas deputy attorney general, and worked on the transition teams of President George W. Bush in 2000 and Texas Attorney General Greg Abbott in 2002.
McCaul spent the summer of 2002 in the Senior Executive Fellows Program at Harvard University. He has been statewide project director for Texas Exile, a gun violence reduction initiative, and was instrumental in the formation of the Texas Internet Bureau to combat cybercrime and online fraud.
McCaul was elected to the U.S. House in 2004.
He and his wife, Linda, have five children.
Profile
Michael McCaul represents Texas' reliably Republican eight-county 10th District, which stretches from northwest Houston to Austin.
He refuses to request budget earmarks, a stance he has maintained during his tenure in Congress. He favors eliminating all taxes except for a national sales tax.
"We have a system incredibly complex," he says. "No one understands it. It's easy to cheat if you're dishonest and almost impossible to comply with if you're honest. ... We tax in this country work, productivity, savings and investment. I think we should look at other ways to tax our economy. In a lot of ways, the government is harnessing the economic engine we have in this country."
With enough Republicans in Congress, McCaul said, "we can start looking at reviving this debate on the tax code and look toward fundamental tax reform."
In February 2012, McCaul was one of five Republicans who withdrew from a long-standing Ethics Committee investigation into Rep. Maxine Waters because of concerns about impartiality. The panel is investigating whether Waters tried to steer money from the 2008 financial bailout to a minority-owned bank while her husband was a shareholder and board member of the institution. Neither McCaul nor any of the other recused panel members were found to have exercised bias or behaved improperly.
McCaul weighed in on the 2010 plane crash into the Internal Revenue Service offices in Austin, calling it terrorism rather than crime.
"When you fly an airplane into a federal building to kill people, that's how you define terrorism," he said. "It sounds like it to me."
McCaul co-sponsored a bill in 2008 to end the current BCS college football playoff ranking system.
Also in 2008, McCaul intervened on behalf of two American-born brothers who were stuck in a prominent madrassa in Pakistan. The boys were featured in a documentary called "Karachi Kids" and had been unable to return to the United States due to visa complications. The brothers returned home a few days after McCaul stepped in.
McCaul is a co-founder of the congressional Green Schools Caucus.
As a federal prosecutor, McCaul fought public corruption and investigated the campaign finance scandal involving the People's Republic of China. He served nine years in the Justice Department before returning to Texas to serve as then-Attorney General John Cornyn's deputy attorney general.
"I was looking to surround myself with the best talent I could find," said Cornyn, now a U.S. senator. "Michael fit the bill. He had prosecuted some high profile campaign finance violations. So he had demonstrated his competence and merit."
McCaul, who considers Cornyn a mentor, credits his father, a World War II veteran, and his family's Catholicism for instilling in him the idea of public service.
"I believe I have a responsibility to sacrifice for future generations," he said. "I think, religiously, I was raised to serve others. That's what motivates me. I'm not doing this for myself or some business but in the truest sense, to make the world a better place."
Source: Associated Press