Michael 'Mike' Honda
House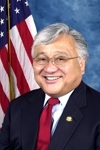 Birthdate: June 27, 1941
Birth Place: Stockton, CA, United States
Residence: San Jose, CA
Religion: Protestant
First Elected: 2000
Gender: Male

Candidacy
Party: Democratic
State: California
Office: House
District: District 17

Education
Undergraduate: San Jose State University
Degree: BS

Undergraduate: San Jose State University
Degree: BA

Graduate: San Jose State University
Degree: MA

Mike Honda was born in Walnut Grove, Calif. He and his family were interned during World War II and returned in 1953 to San Jose, where he still lives. He received bachelor's degrees in biology and Spanish and a master's degree in education from San Jose State University.
He spent two years in the Peace Corps in El Salvador. He was a public school administrator from 1975 to 1986 and served as a board member of the San Jose Unified School District from 1981 to 1990.
Honda was elected to the Santa Clara County Board of Supervisors in 1990, serving until he was elected to the state Assembly in 1996.
He was elected to the U.S. House in 2000.
Honda is a widower and has two children.
Profile
Mike Honda, representing California's 15th District in the U.S. House, has established himself as a reliable liberal vote willing to oppose knee-jerk policies, an approach that has its roots in his personal experiences. Honda, who was born six months before the attack on Pearl Harbor, was placed in an internment camp with his family during World War II.
Honda is seeking re-election to the House in 2012, but from California's 17th District, a result of the redistricting that followed the 2010 Census. In the June 2012 primary, he received more than 65 percent of the vote, more than double of Republican challenger Evelyn Li.
Honda has fought as chairman of the Congressional Asian Pacific American Caucus for immigration reform and has pushed for broadening the face of the movement.
He said he wants to make sure reforms address the long waiting periods that Asian-Americans and Pacific Islanders face to get visas to legally enter the country. He also wants to help ensure that lesbian, gay, bisexual and transgender communities have equal chances to bring their loved ones to this country.
Honda joined other lawmakers in June 2010 in urging Congress to pass the Uniting American Families Act.
He is a former teacher and principal and has made education one of his top issues. In the first few months of President Barack Obama's administration, he introduced legislation to address disparities in education.
In June 2012, Honda, using his background both as an educator and someone who was bullied, launched the bipartisan Congressional Anti-Bullying Caucus. "Today, however, America is threatened by an epidemic where more than thirteen million children are teased, taunted, and physically assaulted by their peers each year _ embodied in racism, xenophobia, homophobia, sexism, or simply means of letting go of aggression and bottled emotions. This bullying is not confined to classroom walls; the fear and hurt that so many people feel in America today is an urgent call to action," Honda said.
Honda represents Silicon Valley and has embraced technology to communicate with his constituents. In 2009 he described, in a blog post, his support for the approximately $800 billion economic stimulus package.
In 2008, the House passed his resolution honoring the Asian-American and Pacific-Islander soldiers who fought on both sides of the U.S. Civil War. The year before, Honda pushed through a resolution urging Japan to "formally acknowledge, apologize and accept historical responsibility" for the sexual enslavement of so-called comfort women during World War II. The resolution drew a rebuke from the prime minister of Japan, who called Congress' vote regrettable.
Honda has backed legislation to reverse a decades-old law and award veterans' benefits to Filipinos who fought with U.S. forces in World War II.
He was one of three lawmakers to take a stand on a controversial Pledge of Allegiance ruling, voting against condemning an appeals court decision that the phrase "under God" was unconstitutional.
Honda opposed the war in Iraq and supported creating a Cabinet-level Department of Peace. He called in 2007 for a congressional inquiry into the death in Afghanistan of Army Ranger Pat Tillman. The Army initially suggested that the former professional football player had been killed in a firefight with enemy militia forces in 2004.
Honda proposed the Food Choking Prevention Act that would give the U.S. Food and Drug Administration more power to recall and put warning labels on food and candy.
Honda instituted reforms as a Santa Clara County supervisor and headed the effort to fast track the funding and construction of numerous highway projects. He also established the Santa Clara County Open Space Authority and protected hillsides from development.
His efforts to extend unemployment benefits after the dot-com collapse earned him the respect of affected Silicon Valley workers.
Source: Associated Press