Michael 'Mike' Keith Simpson
Michael 'Mike' Keith Simpson
House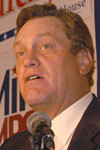 Birthdate: Sept. 8, 1950
Birth Place: Burley, ID, United States
Residence: Blackfoot, ID
Religion: Mormon
First Elected: 1998
Gender: Male

Candidacy
Party: Republican
State: Idaho
Office: House
District: District 2

Education
Undergraduate: Utah State University
Degree: BS

Graduate: Washington University
Degree: DDS

Mike Simpson was born in Burley, Idaho, and now lives in Blackfoot. He graduated from Blackfoot High School in 1968.
Simpson earned a bachelor's degree from Utah State University. He then earned a dental degree from Washington University in St. Louis in 1977 and returned to Blackfoot in 1978, where he began practicing dentistry with his father and other family members.
He was a member of the nonpartisan Blackfoot City Council from 1980 to 1984 and then was elected to the first of seven two-year terms in the Idaho House.
After rising to the ranks of state House speaker, Simpson was elected to the U.S. House in 1998.
He and his wife, Kathy, met in high school.
Profile
Mike Simpson has attempted to balance conservative and moderate positions throughout his career in Washington, D.C., helping to bolster support in his eastern Idaho district. The approach has also stirred detractors. His votes in 2008 and 2009 reflected this philosophy.
In 2008, for instance, he voted for the bailout of the financial services industry, but months later in 2009 voted twice against President Barack Obama's federal economic stimulus package, calling it expensive and irresponsible.
Simpson's vote for the bank bailout drew the ire of conservatives and has been a catalyst behind recent unsuccessful primary challenges from Chick Heileson, a libertarian-leaning Republican who has branded Simpson a socialist. Simpson beat Heileson easily in the 2010 and 2012 primaries.
For about a decade, Simpson has unsuccessfully sought to create a 300,000 acre wilderness in central Idaho, part of a compromise bill that would also lift restrictions on territory currently being studied as wilderness. Though he's come close, each time he's failed amid opposition from not only motorized-recreation advocates, including an heir to the Albertson's supermarkets fortune, but also from environmental groups, such as Western Watersheds Project, which say the measure contains too many concessions. What's more, Gov. C.L. "Butch" Otter, as well as Simpson's House Republican colleague from Idaho, Rep. Raul Labrador, oppose adding wilderness in Idaho.
Simpson was appointed in 2009 to serve as the top Republican for a House Appropriations subcommittee that oversees spending for the Interior Department and environmental agencies. Since Republicans took control of Congress in 2010, Simpson has headed the subcommittee.
In that role, he was the driving force behind a 2011 addition to a budget bill that lifted Endangered Species Act protections from wolves in Idaho and Montana. That ended legal gridlock in federal court and was popular among members of Idaho's ranching and natural resource community who believe the state has far too many wolves already. Environmentalists decried Simpson's move, however, saying it left wolves at the mercy of state managers keen on killing the predators, not saving them.
Simpson, however, hasn't been as successful in preserving grazing land in western Idaho's Hell's Canyon area, a dicey issue that pits the region's historic ranching industry against environmentalists seeking to protect bighorn sheep from a lung disease that scientists say is transmitted by domestic sheep.
In June 2012, U.S. District Judge B. Lynn Winmill sided with environmentalists by ruling that a Simpson-sponsored measure passed the previous December as part of a budget bill wasn't sufficient to stop the Payette National Forest from shuttering another 7,700 acres of grazing allotments.
Source: Associated Press