Michelle Lujan Grisham
House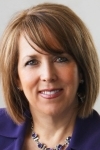 Birthdate: Oct. 24, 1959
Birth Place: Los Alamos, NM, United States
Residence: Albuquerque, NM
Religion: Catholic
Gender: Female

Candidacy
Party: Democratic
State: New Mexico
Office: House
District: District 1

Education
Undergraduate: University of New Mexico
Degree: BA

Graduate: University of New Mexico
Degree: JD

Michelle Lujan Grisham was born in Los Alamos, N.M., raised in Santa Fe and now lives in Albuquerque. Her grandfather Eugene Lujan was the first Hispanic Chief Justice of the New Mexico Supreme Court.
Grisham attended the University of New Mexico, where she earned a bachelor's and a law degree.
From 1991 to 2007, under three different governors, Grisham served as secretary of aging and later secretary of health.
Since 2010, she has been a Bernalillo County commissioner. She is also president and co-founder of the Delta Consulting Group, a small business that oversees the New Mexico Medical Insurance Pool.
Michelle is a widow and has two adult daughters.
Profile
Michelle Lujan Grisham, a Bernalillo County commissioner and president of a small business that oversees the New Mexico Medical Insurance Pool, narrowly defeated two other candidates in the 2012 Democratic primary to succeed incumbent Rep. Martin Heinrich in the state's 1st Congressional District.
Grisham campaigned during the primary on her experience in the health care field, which includes having served 16 years as secretary of the Department of Aging and Long-Term Services for Govs. Bruce King and Gary Johnson. She also served Gov. Bill Richardson's Department of Health secretary until 2007.
During the close primary race, Grisham's opponents attacked her for a lawsuit that was filed during her tenure by the U.S. Department of Justice regarding dangerous patient conditions at the state-operated Fort Bayard medical center and nursing home.
She responded by saying she inherited the problems there.
The state reached a settlement in the case in 2007, but Grisham quit that same year amid criticism of her management style.
She told the Albuquerque Journal she quit because the appointment was the "hardest job on the planet," and she hoped to find new career opportunities.
Grisham ran for Congress in 2008, losing to Heinrich. Two years later, she was elected to the Bernalillo County Commission.
Source: Associated Press