Michael 'Mike' Dennis Rogers
Michael 'Mike' Dennis Rogers
House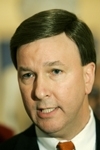 Birthdate: July 17, 1958
Birth Place: Hammond, IN, United States
Residence: Saks, AL
Religion: Baptist
First Elected: 2002
Gender: Male

Candidacy
Party: Republican
State: Alabama
Office: House
District: District 3

Education
Undergraduate: Jacksonville State University
Degree: BA

Graduate: Jacksonville State University
Degree: MPA

Graduate: Birmingham School of Law
Degree: JD

Mike Rogers was born in Hammond, Ind., and resides in Saks, Ala. He earned a bachelor's degree and a master's degree from Jacksonville State University. Rogers earned a law degree from Birmingham School of Law.
He was elected to the Calhoun County Commission at age 28, and became the first Republican and the youngest person ever to serve there.
Rogers spent three years in a general practice law firm before starting his own firm.
He began representing central Alabama's 36th District in the state House in 1994 and was elected minority leader in 1998.
Rogers was elected to the U.S. House in 2002.
He and his wife, Beth, have three children.
Profile
Mike Rogers has continued his strong support for the military and veterans' and military issues. He is a member of the Armed Services Committee and supported the new GI Bill, which was signed into law in summer 2010. The bill offers a permanent expansion of GI Bill education benefits for many veterans. Included in the final version of the bill was an expanded benefit to allow veterans to transfer their educational benefit to family members.
He has mostly opposed bills pushed by President Barack Obama, including the 2010 health care reform bill.
Rogers expressed disappointment in the June 2012 Supreme Court decision upholding the health care legislation. "I believe this law threatens American jobs by imposing steep taxes and mandates on small businesses, and am deeply concerned the ruling gives Washington even greater power to intrude on personal freedoms. Congress must work to repeal it and find solutions that provide better, more fiscally sound healthcare options for our nation," he said.
He doesn't hide his ambition to become a Republican leader in Washington just as he was in the Alabama Legislature.
When he formed a new political action committee in late 2007, he said he intended to use it to raise money for like-minded politicians to show GOP leaders he's a team player.
In 2012, Rogers criticized the Transportation Security Administration for allowing illegal aliens to attend flight training. He said he found a GAO report on the issue "amazing."
"We have cancer patients, Iraq War veterans and Nobel Prize winners all forced to undergo rigorous security checks before getting on an airplane," said Rogers, "and at the same time, ten years after 9/11, there are foreign nationals in the United States trained to fly just like Mohammed Atta and the other 9/11 hijackers did, and not all of them are necessarily getting a security background check."
Rogers, who also sits on the Agriculture Committee, consistently votes with his party. He supported former President George W. Bush's package of tax cuts and the war in Iraq, for example. He sided with a majority of Republicans in opposing Bush's compromise immigration legislation in 2007, and against a Democratic proposal to expand a federal-state health insurance plan for children in low-income working families.
But his votes in 2008 showed him moving away from firmly conservative ranks. After a tough challenge from a Democrat in 2008 in his district that is more than 30 percent black, he parted from Republicans in early in 2009 when he was the only Alabama Republican to vote for a bill to expand a children's health insurance program. He joined the rest of Alabama's GOP delegation in voting against the February 2009 approximately $800 billion economic stimulus plan.
Rogers appears to be trying to build a niche around terrorism issues. He sits on the House Homeland Security Committee, where he is the top-ranking Republican on the oversight subcommittee. He named his PAC the American Security PAC and has introduced legislation to improve training for rural law enforcement agencies.
He also sits on the Armed Services Committee, which has given him a stronger voice on issues such as redeveloping the Army's shuttered Fort McClellan installation and oversight of the Anniston Army Depot, where the Pentagon operates a controversial chemical weapons incinerator.
Although he narrowly won his first election to Congress in 2002, he had an easier time of it in 2004 and 2006, when he won handily. He had a tougher time in 2008 as he received 53 percent of the votes in a hotly contested race against Montgomery attorney Joshua Segall. He won again easily in 2010.
He faces Lee County Commissioner John Harris in the November 2012 general election.
Source: Associated Press