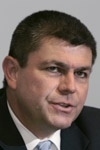 Birthdate: Aug. 2, 1961
Birth Place: Texarkana, AR, United States
Residence: Prescott, AR
Religion: Methodist
Gender: Male

Candidacy
Education
Mike Ross was born in Texarkana, Ark., and now lives in Prescott. He earned a bachelor's degree in political science from the University of Arkansas-Little Rock.
He was elected to the Nevada County Quorum Court in 1982 and served until 1985, when he became chief of staff for then-Lt. Gov. Winston Bryant. He served as director of Bryant's Youth Suicide Prevention Commission.
Ross served in the Arkansas Senate for 10 years. He was elected to the U.S. House in 2000.
He and his wife, Holly, own a pharmacy and health equipment company in Prescott. They have two children.
Profile
Mike Ross is leaving Congress after six terms during which he's tangled with a Democratic White House just as much as he did when Republicans were in control.
Ross announced in 2011 that he would not seek a seventh term. He had been widely expected to instead prepare for a 2014 governor's bid, but he announced in 2012 that he wouldn't run for that office either.
He was the only Democratic congressman from Arkansas to vote against a House version of the health care reform bill in 2009, and he voted against the Senate version of the bill that was signed into law in 2010. He's twice joined with Republicans to vote for a repeal of the law.
Ross in 2009 led a group of 65 House Democrats who said they would oppose any attempt by President Barack Obama's administration to revive a ban on military-style weapons that President Bill Clinton signed into law in 1994 and that President Bush allowed to expire.
Ross has been active with the Blue Dog Coalition, a group of congressional Democrats that often parts from the party base on issues like taxes and federal spending.
He voted in 2009 for the approximately $800 billion economic stimulus package backed by President Obama, stressing the need for long-term fiscal reform, including accountability on the part of the federal government.
Ross' 2000 election victory over four-term Republican Rep. Jay Dickey was the Democrats' only victory that year over an incumbent outside California. Ross ran on the national Democratic Party platform, which at the time included preserving Social Security and creating a Medicare prescription drug benefit.
He breaks with Democrats on abortion and gun control, although he supports laws designed to keep weapons out of schools.
Ross became in 2006 a vocal critic of the Bush administration over the Federal Emergency Management Agency's stockpiling of trailers for Hurricane Katrina victims at Hope Municipal Airport. Nearly 11,000 of the trailers sat unused at the airport in Ross' hometown months after the hurricane had hit.
Ross served in the state Senate for 10 years, rising to some prominence in 1998. As chairman of the Senate Children and Youth Committee, he oversaw hearings verifying that delinquent children in state custody had been abused and that mismanagement existed in the state Division of Youth Services. The committee sponsored legislation that changed the system.
Source: Associated Press