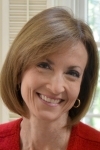 Birthdate: Dec. 14, 1959
Birth Place: Chicago, IL, United States
Residence: Bedford Hills, NY
Religion: Lutheran
First Elected: 2010
Gender: Female

Candidacy
Education
Nan Hayworth was born in Chicago, and currently lives in Bedford Hills, N.Y. Her mother was a British army veteran who came to the United States in 1948. Hayworth earned a bachelor's from Princeton University and a medical degree from Cornell University Medical College.
She is a board-certified ophthalmologist.
Hayworth practiced for 16 years in Mount Kisco including seven years running her own practice. She retired in 2005 but was recruited to work as a scientific expert at a health care communication company.
She was elected to the House in 2010.
Hayworth and her husband, Scott, have two children.
Profile
Nan Hayworth concentrated during her first term on creating jobs, supporting more than 25 job-creating bills that passed the House. She also held two job fairs in her district, connecting employers with job seekers.
She says she wants to rein in federal spending and eliminate unnecessary and counterproductive regulations.
Hayworth says she has "a passionate belief in American exceptionalism." She says the nation's founders designed a limited federal government, and "statism corrodes opportunity and individual liberty."
She has called for a permanent extension of tax cuts, cutting the capital gains tax and corporate taxes and eliminating the so-called death tax and the alternative minimum tax.
Hayworth is the only female physician in Congress and a member of the Congressional Doctors' Caucus. She wants to make "common-sense improvements to sustain Medicare benefits" and assure continued access to good health care. She has called the 2010 health care reform law unconstitutional.
Hayworth has said that in the face of federal inaction, states should be allowed to secure the nation's borders against illegal immigration. She wants visa enforcement improved and criminal illegal immigrants deported.
Source: Associated Press