Nathan 'Nate' I. Shinagawa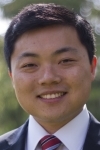 Birthdate: Sept. 28, 1983
Birth Place: Berkeley, CA, United States
Residence: Ithaca, NY
Religion: Presbyterian
Gender: Male

Candidacy
Education
Nate Shinagawa was born in Berkeley, Calif. and moved with his family to upstate New York after he was accepted at Cornell University. He earned his undergraduate and graduate degrees at Cornell and currently lives in Ithaca, N.Y.
Shinagawa is an administrator at Robert Packer Hospital, which is just over the New York state line in Sayre, Penn.
He has served six years in the Tompkins County Legislature and is the legislature's vice-chairman. He worked for two years as an aide to Democratic state Assemblywoman Barbara Lifton.
He is single.
Profile
Nate Shinagawa is a young candidate with a formidable task. The 28-year-old is challenging freshman Republican Rep. Tom Reed to represent New York's 23rd Congressional District, a sprawling upstate area that stretches across most of New York's Southern Tier. Reed enjoys advantages in party registration, name recognition and money.
Shinagawa says his work as a hospital administrator gives him credibility as someone who knows how to deliver high-quality health care at a low cost. He has called the Affordable Care Act "a very good first step" to reduce health care costs but added that more work needs to be done.
When he announced in March 2012 that he would run for the House, Shinagawa highlighted his record in the Tompkins County Legislature.
"Over the past six years, I have built a consistent voting record of supporting investment in infrastructure, promoting quality job growth and conserving the natural beauty of our region," he said. "I promise to fight for these same issues, essential to Southern Tier residents, while in Washington."
He has attacked Reed as someone more interested in helping millionaires and corporations rather than the middle class.
Shinagawa is a self-described environmental advocate and a vocal opponent of hydraulic fracturing _ or fracking _ a controversial method of extracting natural gas that has polarized people in the area. If regulators allow fracking in New York, drillers expect to be busy in the Southern Tier.
Shinagawa said he would work to create jobs in the district through support of the Southern Tier Expressway and high-speed rail. He also advocates more investment in broadband.
On his website, he calls for changes in U.S. trade agreements to promote manufacturing in the United States. "We need to replace free trade with fair trade and make sure our trade partners all play by the same rules," he said.
Shinagawa easily won a three-way Democratic primary in June 2012.
Source: Associated Press