Newton 'Newt' Leroy Gingrich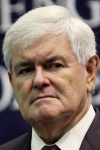 Birthdate: June 17, 1943
Birth Place: Harrisburg, PA, United States
Residence: McLean, VA
Religion: Catholic
Gender: Male

Candidacy
Education
Newton Gingrich was born in Harrisburg, Penn., and resides in McLean, Va. He earned a bachelor's from Emory University and master's and doctorate from Tulane University.
Gingrich taught history and environmental studies for eight years at West Georgia College in Carrollton, Ga.
He was elected to Congress in 1978 and re-elected 10 times. In 1994, Gingrich led Republicans to control of the U.S. House and served as the speaker for four years.
After stepping down from Congress in 1999, he formed a network of business and not-for-profit groups, including the Center for Health Transformation in 2003 to develop free market health care reforms. Gingrich has written numerous books, made documentary films and worked as a political commentator.
He is married to Callista Gingrich and has two daughters from his first marriage.
Profile
Newt Gingrich was a political power in the Republican Party during the 1990s when he served as House speaker. But the congressman turned pundit, author and businessman wants to return to Washington in the nation's highest elected office.
The conservative Gingrich ranks among the best-known candidates seeking the Republican presidential nomination. But he also brings considerable political baggage: three marriages and two extramarital affairs, resignation under an ethics cloud while he was House speaker and a tendency to be brutally frank and direct. He has made inroads with social conservatives by highlighting his conversion to Roman Catholicism after marrying his third wife, Callista.
In 1994, Gingrich helped lead the Republican Party to its first House majority in 40 years. A spending fight between Gingrich and then-President Bill Clinton led to a shutdown of part of the federal government in 1995 and 1996. As House speaker, Gingrich also engineered passage of a seven-year balanced-budget plan. It was vetoed by Clinton, but helped form a bipartisan balanced budget two years later.
After leaving office in 1999, Gingrich established a network of nonprofit and lucrative business ventures. He also churned out a steady stream of books and made frequent speaking engagements.
Gingrich announced his bid for presidency in May 2011, but little more than a month later his two fundraising advisers and more than a dozen aides resigned, citing differences over the direction of the campaign.
In recent months, Gingrich has criticized President Barack Obama's federal health care reform law and the Democrat's foreign policy. He initially criticized Obama for not intervening in Libya, then did an about-face after the president sent in war planes to support the rebels: "I would not have used American and European forces," Gingrich said.
Gingrich's priorities include balancing the budget and paying down the debt, securing the borders, implementing an energy policy that removes obstacles for development and creating jobs in the U.S.
Source: Associated Press