Nick Joe Rahall, II
House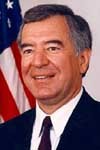 Birthdate: May 20, 1949
Birth Place: Beckley, WV, United States
Residence: Beckley, WV
Religion: Presbyterian
First Elected: 1976
Gender: Male

Candidacy
Party: Democratic
State: West Virginia
Office: House
District: District 3

Education
Undergraduate: Duke University
Degree: BA

Graduate: George Washington University
Degree: Attended

Nick Rahall was born in Beckley, W.Va. He earned a bachelor's degree in 1971 from Duke University. He attended George Washington University for graduate work, but did not complete a degree.
He worked as a sales representative for a West Virginia radio station. He was president of the Mountaineer Tour and Travel Agency and served as president of West Virginia Broadcasting.
Rahall was elected to the U.S. House in 1976.
Rahall and his wife, Melinda, live in Beckley. He has three children from a previous marriage.
Profile
Nick Rahall is seeking a 19th term in 2012 as the sole Democrat in West Virginia's U.S. House delegation amid a debate over coal that's heavy on vitriol and incendiary rhetoric.
The southern coalfields dominate Rahall's 3rd Congressional District. The region's fortunes rise and fall with that industry, and it continues to lag behind much of the rest of the state economically.
Coal interests targeted Rahall during his 2010 re-election campaign, alleging he had failed to stand up to President Barack Obama and the Environmental Protection Agency's handling of mining-permits. Rahall won that race with 56 percent of the vote.
Rahall argues that he has supported coal while also championing its miners. Rahall has pushed for greater mine safety, and supports a stepped-up campaign against black lung disease.
He was a constant presence for the victims' families during the search for survivors following the April 2010 explosion that killed 29 men at the Upper Big Branch mine in his district.
While not planning to attend his party's 2012 national convention, Rahall has broken ranks with other Democrats including Gov. Earl Ray Tomblin and Sen. Joe Manchin by endorsing Obama for re-election. Republicans continue to seek to link Rahall to the president, who is considered deeply unpopular in the state.
Rahall is one of a handful of U.S. lawmakers of Arab descent, and is among the most active House members when dealing with Middle Eastern affairs. He voted twice in 2003 against separate resolutions regarding Israel _ the first commended the country for its elections and the second supported its right to strike back at terrorists.
On the first resolution, Rahall said he had no problem praising Israel but objected to language putting all the blame for the Middle East crisis on the Palestinians.
Rahall and another congressman of Arab descent ignored State Department policy on a trip to Syria and met with Palestinian leader Yasser Arafat, whom Rahall has known for years.
Queen Noor of Jordan presented Rahall with the first Najeeb Halaby Award for public service, an honor commemorating her father, who was a former Federal Aviation Administration director.
Rahall was elected to the House in 1976 and some of his subsequent campaigns have brought tough allegations. One challenger noted Rahall's 1988 arrest in California on drunken driving charges and the lawsuit filed against him in 1984 by a Las Vegas casino for $60,000 of unpaid gambling debts.
His son, Nick Joe Rahall III, was sentenced in February 2004 to 14 months in a federal prison for distributing cocaine. The younger Rahall was charged with selling drugs to a confidential informant at the same time he was free on a $5,000 bond on a fugitive charge in Virginia.
Source: Associated Press