Nita M. Lowey
House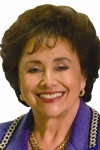 Birthdate: July 5, 1937
Birth Place: Bronx, NY, United States
Residence: Harrison, NY
Religion: Judaism
First Elected: 1988
Gender: Female

Candidacy
Party: Democratic
State: New York
Office: House
District: District 17

Education
Undergraduate: Mount Holyoke College
Degree: BA

Nita Lowey was born in Bronx, N.Y., and now resides in Harrison. She earned a bachelor's in 1959 from Mount Holyoke College.
Lowey was a housewife for years before becoming involved in politics in 1974 when she volunteered for Mario Cuomo's bid for lieutenant governor.
Cuomo, her neighbor, lost but was named New York's secretary of state. He then hired Lowey, who became an assistant to the secretary of state for economic development, serving from 1975 to 1985.
Lowey was elected to the U.S. House in 1988. She became the first woman to head the Democratic Congressional Campaign Committee, the group charged with coordinating Democrats' House elections.
Lowey and her husband, Stephen, have three children.
Profile
Nita Lowey says the federal government's top priority should be creating jobs and spurring the economy. She says she has been focused during her first term on getting employers targeted tax relief and expanded access to capital and helping small businesses compete.
As a member of the Appropriations subcommittee that oversees foreign aid, she supported a bill in 2011 imposing restrictions on aid to Egypt, Pakistan and the Palestinian Authority. The bill was part of a $1 trillion-plus year-end spending package that provides money for 10 Cabinet agencies through September 2012.
"In a difficult economic and political climate, this bill meets our national security needs and global responsibilities while implementing tough restrictions and requirements on recipients of U.S. assistance," Lowey said at the time.
As a member of subcommittees that fund health care, education and homeland security, she says she is helping her district's schools, health care facilities and emergency preparedness. Her efforts in Congress also include fighting what she describes as "radical attempts to undermine women's health care."
In April 2011, during an ongoing budget battle that threatened to partially shut down the federal government, Lowey was among Democrats who defended women's health funding from being slashed by Republicans.
"It is appalling that Republicans would hold our economic recovery hostage for a ransom of denying millions of women Pap tests, breast exams, and birth control," Lowey said. "It shows their top priority is not keeping our economic recovery on track it is reviving divisive social issues."
Lowey also has become an advocate for senior citizens, opposing privatization of Social Security and pushing to make sure it is fair to women.
A onetime housewife, Lowey broke the glass ceiling in Washington power circles when she was tapped to head the Democratic Congressional Campaign Committee in 2001.
It was a change of fortunes for Lowey, who had played understudy to first lady Hillary Rodham Clinton when Clinton decided she would run for the U.S. Senate. Lowey had been eyeing the seat herself but stepped aside when Clinton chose to run. Lowey then emerged as an ardent Clinton supporter.
Lowey was again seen as a possible candidate for the Senate after Clinton became secretary of state, but Gov. David Paterson selected then-U.S. Rep. Kirsten Gillibrand.
Lowey is one of Congress' most fervent defenders of abortion rights and family planning.
She has been active on other health issues, including U.S. funding for international family planning efforts. A consummate fundraiser, Lowey headed Women Lead 2000, a Democratic Congressional Campaign Committee effort to tap women's donations and turn out the female vote.
Since Sept. 11 she has fought for greater safety at the Indian Point nuclear power plant, which is close to her suburban district.
Source: Associated Press