Norman 'Norm' DeValios Dicks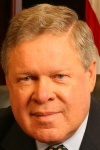 Birthdate: Dec. 16, 1940
Birth Place: Bremerton, WA, United States
Residence: Belfair, WA
Religion: Lutheran
Gender: Male

Candidacy
Education
Norm Dicks was born in Bremerton, Wash., and now resides in Belfair. He received a bachelor's in political science in 1963 and a law degree in 1968, both from the University of Washington. Dicks played college football, as a linebacker and a guard, and was a member of the 1961 Huskies team that won the Rose Bowl.
Dicks worked as a legislative and appropriations assistant to U.S. Sen. Warren Magnuson from 1968 to 1973 and was his administrative aide until 1976.
Dicks was elected to the U.S. House in 1976. In March 2012, he announced he would retire at the end of the 112th Congress.
He and his wife, Suzanne, have two sons.
Profile
Norm Dicks surprised the political establishment in Washington in March 2012 by announcing that he would retire at the end of the year after 18 terms in Congress.
As a young man, he worked for the late Sen. Warren Magnuson, a towering figure in the chamber known for his ability to strike deals and work with his fellow Democrats as well as Republicans.
Almost four decades later, Dicks rose to nearly equal stature in the House, famous as a fierce advocate for his state and labor interests but still able to count opponents as friends.
After Dicks announced his retirement, President Barack Obama thanked Dicks for his service. "Norm has spent his career working to protect our national security, championing the men and women of our Armed Forces and fighting for the many natural resources of Washington State and the Pacific Northwest," Obama said.
The top Democrat on the powerful House Appropriations Committee, Dicks gained a reputation as a defender of the Pentagon and the Boeing Co. and its unionized workforce. The aerospace company employs thousands of people in his district.
Dicks said he was particularly proud of the work he'd done to protect the waters of Puget Sound and Hood Canal and help restore downtown Tacoma.
In June 2012, Dicks introduced a bill in the House, in conjunction with Sen. Patty Murray introducing a bill in the Senate, that would create 126,000 acres of new wilderness in Washington's Olympic National Forest. The legislation would protect several key forest areas and rivers while preserving local jobs and outdoor recreation access. It would help protect sensitive areas on the Olympic Peninsula and continue progress to protect and restore Puget Sound and Hood Canal.
Over the years, Dicks has been skilled at "earmarking" pet projects like roads and community development grants to his northwest portion of the state. But Republicans controlling the House have banned the practice, much to the disappointment of lawmakers on the spending panel, who had controlled earmarks and awarded themselves an outsized share.
In July 2012, he opposed moves by House Republicans to get rid of AmeriCorps, the national service program, and cut off federal funding for National Public Radio, public television and Planned Parenthood. "This bill is an extremely partisan proposal, stands little chance of even being brought up on the House floor, and will rightly be disregarded by both the Senate and the president," he said at the time.
Dicks' 6th Congressional District included many blue-collar towns across Puget Sound, west of Seattle, and stretched to the Pacific Ocean. It did not significantly change after the redistricting process following the 2010 census and Dicks was expected to be easily re-elected in 2012 had he run again.
Source: Associated Press