Nydia M. Velazquez
House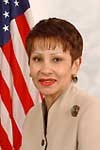 Birthdate: March 28, 1953
Birth Place: Yabucoa, , Puerto Rico
Residence: Brooklyn, NY
Religion: Roman Catholic
First Elected: 1992
Gender: Female

Candidacy
Party: Democratic
State: New York
Office: House
District: District 7

Education
Undergraduate: University of Puerto Rico
Degree: BA

Graduate: New York University
Degree: MA

Nydia Velazquez was born in Yabucoa, Puerto Rico. She was the first member of her family to earn a high school diploma. She earned a bachelor's in 1974 from the University of Puerto Rico and a master's in political science in 1976 from New York University.
Velazquez was an adjunct professor at Hunter College from 1981 to 1983. She worked as an aide to U.S. Rep. Ed Towns, and in 1984 became the first Hispanic woman elected to the New York City Council. Two years later, the governor of Puerto Rico appointed Velazquez as secretary of the Department of Puerto Rican Community Affairs in the United States.
Velazquez was elected to the U.S. House in 1992.
She lives in Brooklyn.
Profile
It's been 20 years since Nydia Velazquez made history by becoming the first Puerto Rican woman elected to Congress, in a district drawn expressly to increase Hispanic voting strength in Congress.
She's continued to break new ground ever since winning that first election in 1992.
When the Democrats won control of the House of Representatives in 2006, Velazquez became the first Hispanic woman to chair a congressional committee, leading the Small Business Committee and actively pushing legislation that would expand credit and tax breaks to small business owners in the hope of stimulating employment.
Under the current Republican-controlled House, she remains the top Democrat on the committee.
She is a past chairwoman of the Congressional Hispanic Caucus, and has been a strong advocate for comprehensive immigration reform as well as for directing more resources toward English language learners in New York City. She has supported the DREAM Act, a measure that would have allowed some children of illegal immigrants to stay in the country legally.
Velazquez has steered federal grant money to launch a study on the feasibility of creating a streetcar line in Brooklyn.
Her district stretches across three New York City boroughs _ Queens, Brooklyn and Manhattan's lower east side. It's still heavily Hispanic but there are sizable populations of other ethnic groups including Hasidic Jews and Chinese.
The 2012 Democratic primary was supposed to be a strong challenge for her, but Velazquez easily defeated three other opponents to advance to the November general election where she faces no Republican opponent.
During the 1992 election, word leaked that she had attempted suicide in 1991 and had been hospitalized and received counseling. The disclosure did not seem to concern voters, and she was elected easily that November.
Source: Associated Press