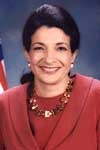 Birthdate: Feb. 21, 1947
Birth Place: Augusta, ME, United States
Residence: Falmouth, ME
Religion: Greek Orthodox
Gender: Female

Candidacy
Education
Olympia J. Snowe was born in Augusta, Maine, and now resides in Falmouth. Her aunt and uncle raised her following the death of her parents, who had emigrated from Sparta. She earned a bachelor's degree in political science in 1969 from the University of Maine.
Snowe's husband, state Rep. Peter Snowe, was killed in an automobile accident and she won a special election in 1973 to fill his vacant seat.
She was elected to the Maine Senate in 1976, to the U.S. House in 1978 and to the U.S. Senate in 1994. Snowe is not seeking re-election in 2012.
Snowe is now married to former Maine Gov. John McKernan, who also served with her in the U.S. House.
Profile
Olympia J. Snowe is Maine's senior U.S. senator and the second female senator to represent the state, following the late Sen. Margaret Chase Smith, who served from 1949 to 1973.
Snowe is one of three GOP senators in all of New England and has long cultivated her reputation as a moderate and independent Republican. She has led the Senate's Centrist Coalition, which tries to find common ground on issues such as campaign finance reform and tax policy.
Her standing as an independent-minded moderate Republican who would willingly reach out to the other side marginalized her. In February 2012, Snowe stunned the political world when she announced she would not seek a new term. She cited polarization and gridlock in Congress as her reasons for not running for re-election.
Her moderate reputation was reinforced in early 2009 when she joined Senate Democrats and two other Republicans _ including fellow Maine Sen. Susan Collins _ in casting critical votes to pass the 2009 approximately $800 billion economic stimulus package backed by President Barack Obama. Snowe's support won her praise from the president.
Snowe joined Collins and the Democrats in mid-2010 in passing financial overhaul legislation imposing strict restrictions on banks and Wall Street, and legislation extending unemployment benefits to millions unable to find jobs amid the recession.
In August 2010, Snowe and Collins threw their support behind Obama Supreme Court nominee Elena Kagan, and both voted for a $26 billion measure on Medicaid funding and education. Their stands on both countered the GOP line but won them praise from within Maine.
Snowe showed her credentials as an independent in voting with Democrats for the State Children's Health Insurance Program in 2009, and earlier against President George W. Bush's tax-break legislation. She opposed a measure to allow drilling in the Arctic National Wildlife Refuge, and tried unsuccessfully to force Republicans to include a dissenting opinion in the party platform's anti-abortion position.
She authored an amendment that for the first time created a reserve fund for a Medicare prescription drug benefit.
Snowe co-chaired for a decade the U.S. House's Congressional Caucus on Women's Issues.
Source: Associated Press