Patrick Erin Murphy
House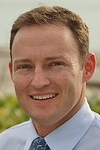 Birthdate: March 30, 1983
Birth Place: Miami, FL, United States
Residence: Jupiter, FL
Religion: Roman Catholic
Gender: Male

Candidacy
Party: Democratic
State: Florida
Office: House
District: District 18

Education
Undergraduate: University of Miami
Degree: BS

Patrick Murphy was born in Miami and raised Key Largo. He earned a bachelor's in accounting and finance from the University of Miami.
After college, Murphy became a certified public accountant and joined Deloitte and Touche as an external auditor for Fortune 500 companies. He currently is vice president of Coastal Environmental Services, his family's company, which specializes in disaster relief and environmental cleanup.
In 2010, he led that company's efforts to remove oil in the Gulf of Mexico as a result of the massive BP spill.
Murphy is single.
Profile
Patrick Murphy easily defeated Democrats Jim Horn and Jerry Lee Buechler in the August 2012 primary for Florida's 18th Congressional District. He faces Republican Rep. Allen West in the November general election.
West, a first-term congressman in the 22nd District, is running for re-election to the new seat after redistricting of congressional boundaries. Murphy called West a coward for the switch and followed him.
Their general election contest, between a political novice and a tea party firebrand, is shaping up to be one of the most expensive congressional races in the country.
Murphy has pledged to help create jobs, invest in infrastructure and education and maintain the United States' "unbreakable" bond with Israel. He has also criticized West's positions on entitlement reform, saying he "will oppose any change to Social Security and Medicare that will negatively impact our seniors."
Source: Associated Press