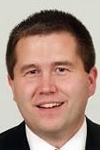 Birthdate: Oct. 21, 1977
Birth Place: Columbia, MO, United States
Residence: Athens, OH
Religion: Catholic
Gender: Male

Candidacy
Education
Pat Lang grew up in Albany, Ohio, a small town in the Appalachian region of eastern Ohio, and currently lives there. His parents, Robert and Terry, were a teacher and a waitress, and his stepfather was a union bricklayer. Lang earned a bachelor's degree in political science at Ohio University and a law degree from the University of Cincinnati.
Lang made history in 1997 as the first person to win a seat on the Athens City Council while still an undergraduate. He was 20.
After completing his law degree, Lang returned to Athens County and worked as an assistant prosecuting attorney. He was elected the city law director of Athens in 2007, a position he still holds.
Lang has served on the counseling staff of American Legion Buckeye Boys State, a summer youth program emphasizing the values of Americanism and good government.
His wife, Jenny, is a high school science teacher.
Profile
Pat Lang, a Democrat, is taking on Republican incumbent U.S. Rep. Steve Stivers in Ohio's newly drawn 15th Congressional District in 2012. Stivers narrowly won the closely divided district in 2010 before redistricting redrew the state's map to strongly favor Republicans.
A key point in Lang's campaign has centered on the plight of the middle class. On his website, he questions why Wall Street seems to be doing fine, while communities such as those in the 15th District are having to tough it out.
If elected, Lang says he would work to provide payroll tax breaks to businesses that bring overseas jobs home and end subsidies that have rewarded outsourcing by U.S. companies. He also says he would fight to protect unions and the right to collectively bargain.
Lang says American education must be second to none, and he has called for an expanded investment in education. He says that college has to be made more affordable so that everyone willing to put in the work to obtain a degree is able to do so. He wants to reduce student loan interest rates and expand programs that provide loan forgiveness for those who take more difficult jobs, such as teachers or nurses working in low-income areas, after graduation.
Lang is pro-choice and has indicated he would support legislation closing the pay gap between men and women.
Lang is city law director in Athens, a college town in the heart of Ohio's largely poor and blue-collar Appalachian region. He made history as an Ohio University student when he became the first actively enrolled undergraduate to win a city council seat. Lang lost a bid for the Ohio House of Representatives in 2004, winning just 41 percent of the vote in a contest against moderate Republican Jimmy Stewart in the GOP-leaning 92nd district.
In 2007, Lang unseated Republican Garry Hunter, who had been Athens city law director for 30 years; Lang won re-election without opposition in 2011.
Source: Associated Press