Patrick 'Pat' Joseph Tiberi
Patrick 'Pat' Joseph Tiberi
House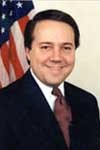 Birthdate: Oct. 21, 1962
Birth Place: Columbus, OH, United States
Residence: Columbus, OH
Religion: Catholic
First Elected: 2000
Gender: Male

Candidacy
Party: Republican
State: Ohio
Office: House
District: District 12

Education
Undergraduate: Ohio State University
Degree: BA

Pat Tiberi (TEE'-behr-ee) was born to Italian immigrants in Columbus, Ohio, where he still lives. He earned a bachelor's degree in journalism in 1985 from Ohio State University, where he played trumpet in the marching band.
He worked in real estate and, for eight years, as an aide to then-Rep. John Kasich, who represented Ohio's 12th Congressional District.
Tiberi was elected to the Ohio House in 1992, becoming majority floor leader _ the No. 3 GOP leadership position _ in 1998.
He was elected to replace Kasich in the U.S. House in 2000.
Tiberi and his wife, Denice, have four daughters.
Profile
Pat Tiberi, representing Ohio's 12th Congressional District, joined other House Republicans in chipping away at the 2010 health care reform bill and supporting a limit on tax breaks for insurance policies that cover abortions.
"What we are trying to do is codify longstanding policy that federal dollars should not be used for abortion," Tiberi said in March 2011 before the House passed the measure.
Supporters said existing law doesn't go far enough in ensuring that no tax money is used to subsidize abortions. The measure had little chance of surviving the Democratic-controlled Senate or a possible presidential veto.
Tiberi supports a full repeal of the 2010 health care reform law. He said people should not be denied coverage because of pre-existing conditions and residents should have access to affordable health care, but that decisions should be made by patients and doctors, not the government.
"I support health care reform, but I don't support the Democrats' trillion dollar health reform law," he said.
In 2012, after the Supreme Court upheld the 2010 health care reform bill, Tiberi said that although the court found the legislation constitutional by labeling it a tax, it did not mean that it was good policy.
Tiberi, who replaced former Rep. John Kasich in Congress in 2000, has been a consistent vote for GOP-sponsored legislation.
He voted in 2010 against repealing the "don't ask, don't tell" policy banning gays from serving openly in the military. He was one of eight Ohio Republicans who voted against the 2009 approximately $800 billion economic stimulus package backed by President Barack Obama, calling it a temporary solution to a large problem.
Tiberi, whose district experienced high rates of home foreclosures, was among Republicans who initially opposed a housing rescue plan in 2008. But he voted for the plan after President George W. Bush dropped his threat to veto the bill.
Tiberi said he voted for it because "the impact on the markets if we did nothing would be a far greater risk than the bad policies."
He joined Republicans in pushing for both of Bush's tax cuts. He also worked on the No Child Left Behind education bill, signed in 2002.
Tiberi spoke out that year about GOP-backed campaign finance legislation that made it illegal for children to donate money to political campaigns.
"Banning honest-to-goodness 17-year-olds from giving a few bucks to candidates they support is overkill at its worst," Tiberi said.
In 2006, Bush signed the Tiberi-written Older American Act Amendments that reauthorized and amended programs for senior citizens.
Tiberi's former boss Kasich was instrumental in helping him win a seat in the Ohio Legislature. When Kasich retired, Tiberi got the support of the future governor and the state GOP.
"I was preparing to go into real estate because I didn't think John Kasich was ever going to leave Congress," Tiberi said. "Then, it was like 'boom,' the opportunity of a lifetime. The right place, right time. I had to run."
Source: Associated Press