Patrick Timothy McHenry
House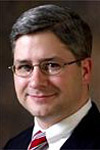 Birthdate: Oct. 22, 1975
Birth Place: Mecklenburg, NC, United States
Residence: Denver, NC
Religion: Catholic
First Elected: 2004
Gender: Male

Candidacy
Party: Republican
State: North Carolina
Office: House
District: District 10

Education
Undergraduate: Belmont Abbey College
Degree: BA

Undergraduate: North Carolina State University
Degree: Attended

Patrick McHenry was born in Mecklenburg, N.C., and resides in Cherryville. He attended North Carolina State University and earned a bachelor's degree from Belmont Abbey College in 1999.
McHenry served as chairman of the North Carolina Federation of College Republicans and national treasurer of the College Republican National Committee. While in college, he worked on Robin Hayes' 1996 gubernatorial campaign and was the Republican nominee in 1998 for a district seat in the North Carolina House.
He was an executive with a Washington, D.C.-based consulting firm and worked on the 2000 presidential campaign of George W. Bush, who later appointed him special assistant to the U.S. Secretary of Labor.
McHenry is a licensed real estate broker and the owner of McHenry Real Estate.
He was elected to the U.S. House in 2004.
McHenry married his wife, Giulia, in 2010.
Profile
Patrick McHenry has emerged as a staunch conservative for a new generation. He suggested in 2010 putting the face of former President Ronald Reagan on the $50 bill, replacing the likeness of Ulysses S. Grant, the former Union general and president.
"Every generation needs its own heroes," McHenry said.
McHenry was 29 and the youngest member of the congressional delegation when he took office in 2005. He had served a single term in the North Carolina General Assembly before winning the seat of outgoing, nine-term Rep. Cass Ballenger in the state's Republican-majority 10th Congressional District.
Brash and enthusiastic with a head of graying hair that makes him look more mature than his age, McHenry is a strong believer in an aggressive conservative agenda.
In the November 2012 general election, McHenry faces a challenge from state Rep. Patsy Keever. He beat out challengers Ken Fortenberry, a newspaper publisher, and Cramerton resident Don Peterson in the May 2012 Republican primary.
In July 2012, he voted with a majority in the House to repeal the 2010 health care reform bill, a largely symbolic vote following the Supreme Court decision upholding the legislation. "Increasing taxes on hard-working Americans and small businesses by nearly $800 billion over the next decade will not fix our healthcare system," he said in a statement.
He voted in 2012 to hold Attorney General Eric Holder in contempt of Congress for refusing to turn over documents related to the Justice Department's Operation Fast and Furious.
McHenry joined with fellow Republicans in 2009 to oppose the passage of the approximately $800 billion economic stimulus package. He also opposed the financial industry bailouts of 2008 and 2009.
In March 2012, after the media reported a growing trend of employers demanding that job applicants provide passwords to their private Facebook accounts to check for embarrassing or damaging information, McHenry drafted legislation that would prevent this.
"Requiring an individual to provide access to their personal social media account is an invasion of privacy, plain and simple," a McHenry spokesman said.
He broke from Republican leadership in 2005 by upholding a campaign promise to vote against the Central American Free Trade Agreement. He did not attend when then-President George W. Bush visited a college in his home county to promote CAFTA. McHenry had called the North American Free Trade Agreement that preceded it "disastrous" for industries such as textiles, furniture and other manufacturing sectors that were a big part of his district's economy.
McHenry says he believes taxes are too high at all levels of government. As a state legislator, he never voted for a tax increase.
He pushed in the Statehouse for medical malpractice reform, allowing small business owners to pool their health benefits and using the community college system as an engine for job training and growth.
McHenry said when he first started telling people he was thinking about running for the U.S. House, the reaction "wasn't applause. It was laughter. They did not take me seriously."
Despite lacking the experience, funding and connections of his GOP primary rivals, McHenry waged a grass-roots campaign to win the blue-collar, conservative district in the Blue Ridge foothills of western North Carolina.
He has emphasized his Christian-based conservative views and opposition to same-sex marriage, human embryonic stem cell research, abortion, taxes and gun control.
Within a year of joining Congress, he described the body as "a much more sophisticated junior high school."
"There are the nice guys that everybody likes, the jocks, the geeks, the bullies _ they're all here. It's a representative democracy," he said.
Source: Associated Press