Paul Cook
House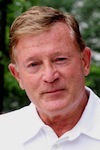 Birthdate: March 3, 1943
Birth Place: Meriden, CT, United States
Residence: Yucca Valley, CA
Religion: Roman Catholic
Gender: Male

Candidacy
Party: Republican
State: California
Office: House
District: District 8

Education
Graduate: University of California - Riverside
Degree: MA

Graduate: California State University - San Bernardino
Degree: MPA

Paul Cook was born in Meriden, Conn., and now lives in Yucca Valley, Calif. He earned a master's in public administration from California State University-San Bernardino in 1996 and a master's in political science from the University of California-Riverside in 2000.
Cook served for 26 years in the U.S. Marine Corps, from which he retired as a colonel after earning a Bronze Star and two Purple Hearts.
After retiring from the military he served on the Yucca Valley Town Council. He has taught college level courses on history, public administration and political science at Copper Mountain College, California State University, San Bernardino and UC-Riverside.
He was elected in November 2006 to represent California's 65th Assembly District, which includes numerous cities and unincorporated areas of Riverside and San Bernardino counties.
Cook and his wife, Jeanne, have four children.
Profile
Retired U.S. Marine Col. Paul Cook won a hard-fought primary battle in 2006 to represent in the state Assembly parts of San Bernardino and Riverside counties _ a mostly Republican district.
As his primary opponent Jim Ayres became engulfed in a campaign finance scandal, Cook's political star rose and he rode a wave of support for his conservative platform into Sacramento.
As a freshman legislator, Cook for a time occupied the "Doghouse," the state Capitol's smallest office. He took typically conservative positions, opposing a move to ask then-President George W. Bush to withdraw troops from Iraq, as well as proposals to let inmates have condoms to reduce the spread of sexually transmitted diseases behind bars, and sponsoring a state ban on sex offenders driving ice cream trucks.
By 2012, when he was termed out of the state legislature, he decided to run for a newly created U.S. House seat in a district where he once against faced off with members of his own party in a hotly contested primary.
Cook finished second in the 2012 primary among a crowded field of 13 candidates in High Desert's 8th Congressional District, setting up a November general election contest against fellow GOP candidate and tea party favorite Gregg Imus.
The new district boundaries drawn by an independent commission _ a power once held by state lawmakers and party insiders _ opened the way for more competitive contests. Nine of the 53 districts have no incumbent on the ballot. The scenario was further shuffled by a new primary system for congressional and state legislative races in which voters, regardless of registration, could select candidates from any party.
Cook has championed his constituents' traditional values, focusing on lowering taxes and increasing penalties on sex offenders. While he opposed Democratic Gov. Jerry Brown's tax plan, last year he earned the wrath of conservative Los Angeles AM radio talk show hosts John Kobylt and Ken Chiampou by failing to endorse a no-tax pledge.
As a member of the Disabled American Veterans, Veterans of Foreign Wars and the American Legion, Cook also has been particularly outspoken on veterans' issues. As chair of the Assembly Veterans Affairs Committee, he sponsored a bill to make the grounds outside the state Capitol become home to two more memorials and authorized private foundations to raise money for memorials honoring wounded veterans and crime victims.
Another piece of legislation he sponsored requires grade schools throughout the state to hold commemorative exercises recognizing those who fought in Vietnam.
Cook also has worked on protecting children from sexual predators, including co-sponsoring three bills aimed at speeding up law enforcement response to missing persons reports in the wake of two killings of teenage girls in San Diego by a convicted sex offender.
The investigation in San Bernardino County government that swept up his former rival, Ayres, also prompted him to promote legislation aimed at fighting government corruption. Cook sponsored a bill that would dock legislators' $141.86 daily expense payments each day they are late or miss a legislative session, as well as a bill that would force public employees of elected officials to lose their pensions if they are convicted of bribery or embezzlement.
Source: Associated Press