Paul Davis Ryan
House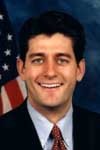 Birthdate: Jan. 29, 1970
Birth Place: Janesville, WI, United States
Residence: Janesville, WI
Religion: Roman Catholic
First Elected: 1998
Gender: Male

Candidacy
Party: Republican
State: Wisconsin
Office: House
District: District 1

Education
Undergraduate: Miami University
Degree: BA

Paul Ryan was born in Janesville, Wis., where he still resides. He earned a bachelor's in political science and economics in 1992 from Miami University in Ohio.
Ryan worked in 1992 as an economic adviser for then-U.S. Sen. Bob Kasten, and was a speechwriter and economic adviser from 1993 to 1995 at Empower America, a public policy advocacy group in Washington, D.C.
Ryan worked for then-U.S. Rep. Sam Brownback, in 1995 and 1996, first as legislative director and then as chief of staff. He was legislative director on Brownback's U.S. Senate staff in 1997.
Ryan also was a marketing consultant at RYAN Incorporated Central, a Janesville-based construction company started by his great-grandfather.
He was elected to the U.S. House in 1998. Republican presidential candidate Mitt Romney picked Ryan as his running mate in August 2012.
Ryan is married and has three children.
Profile
Republican Mitt Romney anointed Wisconsin Rep. Paul Ryan, an ardent conservative and devoted budget cutter, as his vice presidential running mate in August 2012. The two men immediately embarked on a tour of campaign battleground states, vowing to defeat President Barack Obama and repair the long-ailing U.S. economy.
Ryan is seen as a favorite of the Republican Party's conservative base, a group that long has been skeptical of Romney's conservative credentials.
Ryan has become a national leader of the conservative wing of the Republican Party, with a growing influence on economic issues ranging from taxes to entitlement programs and the deficit.
His prominence can be attributed in part to his "Roadmap for America's Future," a highly controversial plan to turn Medicare into a voucher program, partially privatize Social Security, cut corporate taxes and eventually balance the federal budget.
Conservatives and budget hawks in particular have rallied around the plan and Ryan as a one-man antidote to the "party of no" label that Obama has pinned on the GOP. He says his ideas are the antithesis of Obama's and a direct repudiation of progressivism, the movement pioneered in Wisconsin a century ago.
But because of the controversial nature of the plan, many Republicans were lukewarm toward it publicly in both the 2010 and 2012 campaigns. For example, Republican Sen. Scott Brown of Massachusetts wrote an op-ed for Politico in May 2011 titled, "Why I don't back Paul Ryan's Medicare plan," in which he argued that Medicare had already been cut too much and that the system could be improved with smaller tweaks.
Democrats have also attacked candidates across the country for lining up with Ryan's ideas.
When the Republican Party won control of the House in 2010, Ryan became chairman of the powerful House Budget Committee. It was in that role that he prepared budgets and offered his "Path to Prosperity" plan, and said his aim was to undertake a "shock and awe campaign" to go after wasteful spending.
Ryan was one of the harshest critics of Obama's 2009 approximately $800 billion stimulus package. However, he came under fire during the 2012 presidential campaign when it was revealed that he had helped Wisconsin businesses apply for those same funds. Ryan's office defended the action, saying Ryan didn't believe flawed policy should get in the way of serving companies that seek his help in applying for existing federal grant funds.
Ryan represents a swing district in southeastern Wisconsin, but has broad appeal among the electorate despite his conservatism. He calls the district "a perfect cross section of America" that includes inner city areas, suburbs, rural areas and manufacturing towns.
However, the area has been hit by job losses, led by the 2009 shutdown of a General Motors plant that once employed thousands. Janesville's unemployment rate spiked to almost 16 percent in the months after the plant closed before gradually improving. The rate is generally among the 10 worst of Wisconsin cities.
Democrats acknowledge they've had trouble finding a credible candidate to run against Ryan, and he has won his last several elections with at least 60 percent of the vote.
Ryan is a social conservative, but does not focus on those issues. He is also quick to praise union members.
Source: Associated Press