Pete Olson
House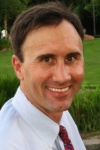 Birthdate: Dec. 9, 1962
Birth Place: Fort Lewis, WA, United States
Residence: Sugar Land, TX
Religion: Methodist
First Elected: 2008
Gender: Male

Candidacy
Party: Republican
State: Texas
Office: House
District: District 22

Education
Undergraduate: Rice University
Degree: BA

Graduate: University of Texas
Degree: JD

Pete Olson was born in Fort Lewis, Wash., and now lives in Sugar Land, Texas. He earned a bachelor's in computer science at Rice University and a law degree at the University of Texas.
Olson enlisted in the Navy in 1988 and he served nine years as a naval aviator, including flying missions over the Persian Gulf in the first Gulf War.
He was transferred to the Joint Chiefs of Staff in 1994 and the next year was assigned as a naval liaison officer to the U.S. Senate. He joined Sen. Phil Gramm's staff in 1998.
He served as chief of staff for Gramm's successor, Sen. John Cornyn, from 2002 to 2007.
He was elected to the U.S. House in 2008.
Olson and his wife, Nancy, have two children.
Profile
Pete Olson says the 2010 health care reform bill will not lower costs, increase access or provide coverage for individuals with pre-existing conditions.
"Raising taxes, eliminating choices for Americans and placing the government in charge of health care is not reform at all," he said.
Olson criticized President Barack Obama's decision to cancel NASA's Orion program, which would have returned American astronauts to the moon. He was not encouraged by Obama's speech at Kennedy Space Center in Florida in April 2010, when Obama said his new space exploration plans would land astronauts on Mars by 2035 and on an asteroid by 2025.
"Our nation does not lack the resources, the capabilities, the infrastructure, or the work force to maintain a robust space program to reach destinations in space. What we lack is a commitment to get there," Olson said.
He also responded in March 2012 to comments made by President Obama in support of a proposed Senate bill to repeal oil tax incentives, saying that hiking taxes on American energy producers will not achieve the desired results.
"Most of these incentives don't go to big oil companies as the President and his far left friends want you to believe. They go to smaller independents, the 'wildcatters,' who drill nearly 90% of the oil and gas wells in America. These independents simply won't survive without these important incentives," Olson said in a press release.
Olson opposed the cap-and-trade legislation passed in 2009 by the House, saying it would severely increase energy costs for every Texan and devastate the state's agriculture industry.
Olson expressed support for Obama's decision in March 2010 to expand offshore drilling for the first time in decades and his decision in December 2009 to send 30,000 more troops to Afghanistan.
In March 2009, Olson had a pacemaker implanted after a fainting episode at a gym in Washington, D.C. Olson said he was diagnosed with bradycardia, a slower-than-normal heartbeat.
Olson was elected in 2008 after emerging from a field of 10 GOP candidates vying for the 22nd District seat once held by House Majority Leader Tom DeLay.
Democrat Nick Lampson captured the seat in 2006 after DeLay retired amid charges of money laundering and conspiracy. Olson defeated Lampson in 2008 with the backing of GOP national leadership, which had targeted the traditionally Republican suburban Houston district as a top priority that year.
Olson favors traditional marriages and is against abortion. He supports allowing more exploration and production of domestic energy sources. He believes the immigration process is flawed, and says that fixing it is the first step toward securing the country's borders and stopping human and drug trafficking.
Source: Associated Press