Pete P. Gallego
House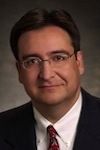 Birthdate: Dec. 2, 1961
Birth Place: Alpine, TX, United States
Residence: Alpine, TX
Religion: Roman Catholic
Gender: Male

Candidacy
Party: Democratic
State: Texas
Office: House
District: District 23

Education
Undergraduate: Sul Ross State University
Degree: BA

Graduate: University of Texas
Degree: JD

Pete Gallego was born and raised in Alpine in deep West Texas, but has spent most of his time living in Austin since being elected as a state lawmaker in 1990. He received a bachelor's degree from Sul Ross State University and a law degree from the University of Texas.
He is a counsel at the law firm of Brown McCarroll LLP, which has an office in Austin. Gallego served as an assistant attorney general before returning to Alpine as a felony prosecutor.
Gallego was just 28 years old when his neighbors urged him to run for the state Legislature. He served in the Texas House from 1991 until 2012, when he filed to run for Congress in the 23rd Congressional District, a seat now held by San Antonio Republican U.S. Rep. Quico Canseco.
Gallego and his wife, Maria Elena Ramon, have a son.
Profile
Pete Gallego, a long-serving Democratic state representative, chose not to seek another term in the Texas House in 2012 and instead filed to run for Congress in Texas' 23rd Congressional District. He advanced to a runoff election against former U.S. Rep. Ciro Rodriguez during the state's May primary, and beat Rodriguez in a July 2012 runoff to advance to the general election against freshman U.S. Rep. Quico Canseco.
Gallego was elected to the Texas House in 1990 and a year later became the first freshman and minority lawmaker to be elected chairman of the Texas House Democratic Caucus, a position he held until 2001. That year, his colleagues unanimously elected him chairman of the Mexican American Legislative Caucus in the Texas House. He was re-elected chairman for a fourth time in December 2006. Gallego also served on the board of directors of the National Association of Latino Elected Officials.
During the 2011 legislative session, his last in the state House, Gallego served as chairman of the Criminal Jurisprudence Committee and also served on the General Investigating and State Affairs Committees. He has previously served on the House Appropriations, Calendars, Higher Education, and Elections committees.
He has been named one of Texas Monthly Magazine's "10 Best Legislators." The national Council of State Governments awarded Gallego a Henry Toll Fellowship, recognizing him as one of the outstanding young leaders in the nation. He has served as chairman of Texas Lyceum, a group for people under 45 who demonstrate unique leadership abilities across Texas.
Source: Associated Press