Peter A. DeFazio
House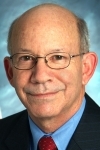 Birthdate: May 27, 1947
Birth Place: Needham, MA, United States
Residence: Springfield, OR
Religion: Catholic
First Elected: 1986
Gender: Male

Candidacy
Party: Democratic
State: Oregon
Office: House
District: District 4

Education
Undergraduate: Tufts University
Degree: BA

Graduate: University of Oregon
Degree: MS

Peter DeFazio was born in Needham, Mass. He earned a bachelor's from Tufts University in 1969 and a master's from the University of Oregon in 1977. He served in the Air Force from 1967 to 1971.
DeFazio worked for U.S. Rep. James H. Weaver of Oregon from 1977 to 1982. He was elected a Lane County commissioner, serving from 1983 to 1987.
DeFazio was elected to the U.S. House in 1986. He is the senior member of Oregon's House delegation.
He ran in 1995 to replace resigning U.S. Sen. Bob Packwood, but lost the Democratic nomination to then-Rep. Ron Wyden.
DeFazio and his wife, Myrnie, live in Springfield.
Profile
After two decades in Congress, Peter DeFazio is the dean of Oregon's U.S. House delegation.
He faces in 2012 a rematch of his 2010 campaign against Republican chemist Art Robinson, who spooked DeFazio with an unconventional but well-funded campaign amid powerful anti-incumbent sentiment that year. Robinson is a leading skeptic of climate-change science, and he's studied a theory that exposure to very low levels of radiation is good for humans. DeFazio has latched on to his statements veering from mainstream science to portray Robinson as a "nut job."
Despite beating Robinson handily in 2010, DeFazio says he's taking the rematch seriously. Robinson has been able to raise significant money to attack DeFazio as a career politician out of touch with his constituents.
DeFazio represents a heavily timber-dependent district and has waded into battles over forests and fish, often managing to antagonize both environmentalists and the timber industry. Several counties in his district faced severe financial challenges after the expiration in 2011 of federal subsidies that had made up for the long-term decline of timber revenue. In 2011 and 2012, he worked with fellow Oregon lawmakers Kurt Schrader, a Democrat, and Greg Walden, a Republican, on a compromise plan to increase logging in some areas while setting aside others for conservation. However, the trio was unable to get the plan through the House.
He has also been a leading critic of a proposal to export liquefied natural gas from Coos Bay, and introduced legislation that would make it harder for developers to build a pipeline.
With a senior post on the Transportation and Infrastructure Committee, DeFazio has long advocated alternative transportation and mass-transit options. But his influence on Capitol Hill has diminished with the rise of a Republican majority in the 2010 election.
DeFazio found himself in the news in March 2009 after he complained about being subject to a random search at Portland International Airport. A Capitol Hill newspaper reported that he lost his temper and denounced the security as "stupid." DeFazio said he was unhappy about being singled out but denied causing a "ruckus."
DeFazio emerged as a leading critic of the $700 billion financial rescue package adopted by Congress late in 2008, and he also voted against the approximately $800 billion economic stimulus bill backed by President Barack Obama in 2009. He was one of seven Democrats who voted against the plan. He said more money should have gone to transportation and infrastructure projects and complained the measure was too heavily weighted toward tax cuts.
DeFazio was an outspoken critic of President Bill Clinton's Northwest forest policies, and he also criticized President George W. Bush's administration, saying it unnecessarily prolonged conflict in the region by insisting on plans to cut old-growth trees.
He said one of his greatest accomplishments was securing passage of a law banning the export of unprocessed logs from national forests and other U.S. public lands.
DeFazio voted against the North American Free Trade Agreement and the General Agreement on Tariffs and Trade.
He opposed the 1991 Persian Gulf War and the 2002 congressional authorization of the war in Iraq.
Source: Associated Press