Peter 'Pete' Anderson Sessions
Peter 'Pete' Anderson Sessions
House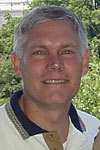 Birthdate: March 22, 1955
Birth Place: Waco, TX, United States
Residence: Dallas, TX
Religion: Methodist
First Elected: 1996
Gender: Male

Candidacy
Party: Republican
State: Texas
Office: House
District: District 32

Education
Undergraduate: Southwestern University
Degree: BS

Pete Sessions was born in Waco, Texas, and resides in Dallas. After graduating from Southwestern University in 1978, Sessions joined Southwestern Bell Telephone Company, where he worked for 16 years.
Sessions rose to the rank of district manager for marketing in Dallas at Southwestern Bell, supervising 435 employees and managing a $16 million budget. He also worked at Bell Labs in New Jersey.
In 1993, Sessions left his job to run unsuccessfully for the 5th District U.S. House seat against Democratic incumbent Rep. John Bryant. He later served as vice president for public policy at the National Center of Policy Analysis, a Dallas-based conservative public policy research institute.
He was first elected to the U.S. House in 1996.
Sessions and his wife, Juanita, have two sons.
Profile
After the Texas Legislature redrew the state's congressional districts in 2003, incumbent Pete Sessions faced a bruising and expensive 2004 election that saw him eventually defeat 13-term Democratic Rep. Martin Frost and retain a seat in Congress.
Sessions has said he has "no Achilles' heel" among the racial, ethnic and religious minority groups in the newly drawn district. But after his victory, he was obliged to reach out to areas where Frost's popularity still lingered.
Sessions was opposed to the 2010 health care reform bill, calling its passage a "sad day for America."
He came under scrutiny by the House Ethics Committee in early 2012 when it was revealed he had received a discounted mortgage from Countrywide Financial Corp. through the lender's VIP program. A spokesman for Sessions said at the time: "Out of an abundance of caution in managing his personal finances, Congressman Sessions specifically requested that he not be extended any special benefits or treatment from Countrywide."
Sessions serves on the Rules Committee, which decides what bills and amendments go to the floor, and the former marketing manager rarely disagrees with leadership.
Sessions, like other Texas Republicans, was a stalwart defender of former Rep. Tom DeLay while he faced legal and ethical troubles. But when DeLay was forced out as House majority leader, Sessions backed Republican John Boehner, a move that may have helped his successful bid for the chairmanship of the National Republican Congressional Committee.
Sessions is a backer of free trade and works on improving cyber security in government. He formed the Malaysia Trade, Security and Economic Cooperation Caucus and serves on a Republican cyber security task force created by former Speaker Dennis Hastert.
Some of Sessions' past political dealings have raised questions. He accepted contributions from tribal clients of convicted lobbyist Jack Abramoff at about the time he also wrote letters to two Cabinet members in support of the closing of casinos operated by rival Indian tribes. He also took a trip to Malaysia that was reportedly arranged by Abramoff.
Sessions' office said he wrote the letters because of his view that gambling is a local issue. His trip to Malaysia was explained as an opportunity to strengthen ties with a Muslim ally.
Sessions also was among lawmakers who received money from disgraced Texas billionaire R. Allen Stanford, who was jailed on charges of bilking investors out of $7 billion in a massive Ponzi scheme.
Sessions received $41,375 from the Houston-based Stanford Financial Group, which donated money in 2002 to congressional lawmakers while they were debating a financial services anti-fraud bill that would have linked the databases of state and federal banking. The bill ultimately died in the Senate. A spokeswoman for Sessions said in February 2009 that he had decided to donate to charity a $2,000 personal contribution from Stanford.
Source: Associated Press