Peter 'Pete' John Visclosky
Peter 'Pete' John Visclosky
House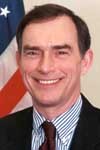 Birthdate: Aug. 13, 1949
Birth Place: Gary, IN, United States
Residence: Merrillville, IN
Religion: Catholic
First Elected: 1984
Gender: Male

Candidacy
Party: Democratic
State: Indiana
Office: House
District: District 1

Education
Undergraduate: Indiana University
Degree: BS

Graduate: University of Notre Dame
Degree: JD

Graduate: Georgetown University
Degree: LLM

Pete Visclosky was born in Gary, Ind., and now lives in Merrillville. He earned a bachelor's in accounting at Indiana University in 1970 and a law degree from the University of Notre Dame in 1973. He is a self-proclaimed "die-hard" Notre Dame football fan.
Visclosky earned a master's in international and comparative law at Georgetown University Law Center in 1982. He practiced law from 1973 to 1976 and worked as a congressional aide from 1977 to 1982.
Visclosky was elected to the U.S. House in 1984.
Visclosky married attorney Joanne Royce in 2008. He has two children from a previous marriage.
Profile
Pete Visclosky is seeking a 15th term in Congress, which with the retirement of Republican Rep. Dan Burton would make him the most senior member of the Indiana congressional delegation if he wins re-election. He was unopposed in the May 2012 Democratic primary.
In November 2011, Visclosky was one of 100 House members who signed a letter asking Congress' debt-reduction committee to consider all options.
Visclosky came under criticism in February 2009 after it was disclosed he had ties to PMA Group, once one of Washington's biggest lobbying firms specializing in defense earmarks, which was under federal investigation.
According to Federal Election Commission reports, Visclosky received at least $100,000 in contributions from donors tied to PMA Group between 2006 and 2008, and the firm was the top donor to his 2008 re-election campaign. Visclosky returned thousands of dollars in contributions linked to the lobbying group and said he would cooperate with any investigations.
The House Ethics Committee ended an investigation into Visclosky and other lawmakers in 2010, saying it found no violation of House rules.
Visclosky's district in northwest Indiana is the nation's top producer of steel and his work in Congress is largely dominated by steel issues. He is vice chairman of the Congressional Steel Caucus and has led the House effort against "steel dumping," the sale of international steel at rates below market prices.
Visclosky was criticized in 2007 for "pork" spending after Taxpayers for Common Sense said he set aside more than $100 million for special projects. He defended the earmarks, saying it's his job to return to district taxpayers as much of their federal tax money as possible.
Visclosky was first elected to Congress in 1984 after defeating the late Rep. Katie B. Hall, the first black person elected to the House from Indiana, in that year's Democratic primary. Visclosky campaigned on economic issues, saying Indiana's economy was dominated by a crippled steel industry and should work to become the world's leading steel production and research center.
Once in the House, he co-authored the Voluntary Restraint Agreement restricting steel imports. He also sponsored a bill requiring the Environmental Protection Agency to report on pollution created by foreign trade partners. He voted against the North American Free Trade Agreement in 1993.
Visclosky supports a woman's right to abortion but opposes federal funding for abortions except in the case of rape, incest or threat to the life of the mother. He opposes the death penalty.
Source: Associated Press