Peter F. Welch
House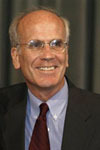 Birthdate: May 2, 1947
Birth Place: Springfield, MA, United States
Residence: Norwich, VT
Religion: Catholic
First Elected: 2006
Gender: Male

Candidacy
Party: Democratic
State: Vermont
Office: House
District: At Large

Education
Undergraduate: Holy Cross College
Degree: BA

Graduate: University of California - Berkeley
Degree: JD

Peter Welch was born in Springfield, Mass. He graduated from Holy Cross College in 1969 and worked after college with a Jesuit organization in Chicago combating racial discrimination in housing. He earned a law degree in 1973 from the University of California-Berkeley.
After law school, Welch settled in Vermont, joining a private law firm. He won election to the state Senate in 1980 and remained in the chamber until 1988. He was re-elected in 2000 ultimately rising to become president pro tempore.
Welch won election to the U.S. House in 2006.
He and his wife, Margaret Cheney, a member of the Vermont House, live in Norwich.
Profile
Peter Welch was elected in 2006 to Vermont's sole U.S. House seat. He ran that year on an anti-war platform after a 25-year career as a trial lawyer and Vermont state lawmaker.
Welch has been active in Democratic Party politics for three decades as an elective official, a fundraiser and an adviser.
In 2011, Welch was appointed chief deputy whip of the House Democratic Caucus.
Welch is active on farm issues and founded a Congressional Dairy Farmers Caucus. In 2010, he introduced the Dairy Price Stabilization Act, a long-term plan to curb volatility in the dairy industry by limiting market growth.
In August 2012, Welsh joined a bipartisan group of House members to ask the federal government to temporarily suspend a mandate that ethanol be included in fuel. Welch said the ethanol program is driving up feed prices for farmers at the same time a major drought in the Midwest is slashing the supply of corn. He says feed prices are up 40 percent. He favors a permanent end to the mandate.
Welch and Vermont Sen. Patrick Leahy, in May 2012, called on Congress to reauthorize the Violence Against Women Act, which they say is caught up in partisan politics in the U.S. House. A proposal that would reauthorize and expand the act to include victims of same-sex domestic violence, same-sex partners and expand the use of the program on tribal lands passed the Senate by a large margin, but a version that passed the House stripped the proposal of a number of provisions that Leahy and Welch say are critical to protecting all members of society. "Our goal in the House is to essentially pass the bi-partisan Senate bill that got 68 to 31 votes," Welch said.
He introduced legislation in 2009 that would support on-the-job training for veterans. He has called for a ban on executive bonuses for banks getting money through the 2009 approximately $800 billion economic stimulus package.
Welch succeeded in his push for amending the 2010 Dodd-Frank Wall Street Reform and Consumer Protection Act to include new protections for small businesses against credit card industry swipe fees. The Durbin-Welch amendment empowers the Federal Reserve to limit the fees banks charge merchants every time a customer pays with a debit card.
Welch wrote a bill during his first term that led to the elimination of a loophole that would have let federal contractors escape reporting abuse of taxpayer money being spent abroad. The House passed the bill on a voice vote in April 2008.
As a member of the House, Welch has pushed to make homes and buildings more energy efficient, make college affordable and expand access to health care. He has worked to protect health care reform and wants to end tax breaks for millionaires and big oil companies. He opposes efforts to restrict a woman's right to choose.
He traces his political views to years spent in Chicago as a young man working to eliminate discrimination in housing at a time when the civil rights debate was a contentious issue. He cites the Rev. Martin Luther King Jr. as one of his inspirations and recalls hearing the speech in which King announced his opposition to the Vietnam War.
Since his election, he has had no serious re-election challenge.
Source: Associated Press