John Phillip 'Phil' Gingrey
John Phillip 'Phil' Gingrey
House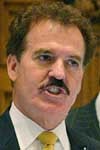 Birthdate: July 10, 1942
Birth Place: Augusta, GA, United States
Residence: Marietta, GA
Religion: Catholic
First Elected: 2002
Gender: Male

Candidacy
Party: Republican
State: Georgia
Office: House
District: District 11

Education
Undergraduate: Georgia Institute of Technology
Degree: BS

Graduate: Medical College of Georgia
Degree: MD

Phil Gingrey was born in Augusta, Ga., and now lives in Marietta. He earned a bachelor's degree from the Georgia Institute of Technology and a medical degree at the Medical College of Georgia.
Gingrey worked in his own practice for 26 years, delivering more than 5,200 babies. He served on the Marietta School Board from 1993 to 1997, including three years as chairman. He has also served on various Cobby County boards and organizations.
He served two terms in the state Senate before winning election to the U.S. House in 2002.
Gingrey and his wife, Billie, have four children.
Profile
Phil Gingrey was a practicing physician before winning election to Congress, and he has focused on health care issues since taking office.
He has been a reliable Republican vote and he joined the majority of his party in voting against the 2010 health care reform bill. He led a group of 14 health care providers serving in Congress who banded together to speak out against President Barack Obama's health care proposals.
In response to the June 2012 Supreme Court decision upholding the health care legislation, Gingrey said, "I believe that this disappointing ruling will be disastrous for our health care system, patients, and physicians."
Gingrey voted against the 2009 approximately $800 billion economic stimulus package promoted by Obama.
Gingrey was a high-profile member of the Georgia congressional delegation during his freshman term in 2003. Health care dominated the domestic agenda and his medical experience was in high demand.
Although Gingrey's voting record on key issues usually sides with GOP leaders, he has often tried to strike a balance between his personal views and his desire to get legislation approved.
Gingrey raised eyebrows during a 2003 speech to the American Medical Association when he said there would need to be some compromises in a medical liability bill. He suggested supporters might have to raise a $250,000 cap they were seeking on lawsuits against doctors found liable for excessive pain and suffering.
Doctors attending the meeting feared Gingrey was showing a willingness to budge on the issue, but Gingrey said he was just relaying the political reality.
Although Gingrey didn't have a role in writing the Medicare prescription drug bill that was signed into law in 2003, he was appointed to an advisory panel on the topic. He often joked it was just a "cheerleading squad."
Gingrey voted for the final Medicare bill, but he waited until late in the debate to endorse any specific proposal. He had expressed support for some concepts voiced by fellow Georgia Rep. Charlie Norwood, a dentist, including a proposal that seniors who prefer to stay in the Medicare system wouldn't have to lose their current coverage.
Gingrey was known before coming to Congress as one of the most conservative members of Georgia's Legislature. He supported abolishing the Internal Revenue Service, a position that helped earn him the endorsement of fellow Georgia Republican Rep. John Linder, another proponent of the idea.
Gingrey opposes abortion. He has received the backing of gun-rights groups for his strong position on the Second Amendment, and he considers immigration control a priority.
Gingrey easily defeated two Republican challengers in the 2012 primary, claiming 81 percent of the vote. He faces Democrat Patrick Thompson in the November general election.
Source: Associated Press