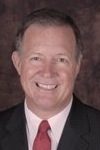 Birthdate: July 2, 1953
Birth Place: Pearland, TX, United States
Residence: Alvin, TX
Religion: Baptist
Gender: Male

Education
Undergraduate: University of Houston - Clear Lake
Degree: BS

Randy Weber was born in Pearland, Texas, and currently resides in Alvin. He attended Alvin Community College before receiving a bachelor's degree from the University of Houston-Clear Lake.
In 1981 he founded, and still owns and operates, an air conditioning company based in Pearland.
Weber was elected to the Texas House in 2008.
He decided to run for the 14th Congressional District seat in 2012, moving to the town of Alvin, barely three miles within the boundaries of his congressional district, because his previous home in Pearland was outside the district.
Weber is a deacon at the First Baptist Church in Pearland.
He and his wife, Brenda, have three children.
Profile
Randy Weber is seeking to replace retiring U.S. Rep. Ron Paul in Texas' 14th Congressional District in 2012. Weber will face Democratic nominee and former U.S. Rep. Nick Lampson in the November 2012 general election.
Weber's political career began when he served on the City Council of his native Pearland, Texas, from 1990 to 1996. He has also served as president of the Brazoria County Cities Association. Weber was elected to the Texas House in 2008 and served on the Environmental Regulation and Public Education Committee. He was vice chairman of Border and Intergovernmental Affairs during the 2009 and 2011 sessions. Outside the Legislature, Weber also serves as Grand Jury Commissioner for Brazoria County.
For his work in the state House, Weber received the Courageous Conservative Award from the Texas Conservative Coalition and the Taxpayer's Hero Award from Texans for Fiscal Responsibility. In February 2012, the National Republican Congressional Committee listed Weber as "On the Radar" as part of its Young Guns program, designed to find and recruit up-and-coming future congressional candidates.
Weber decided not to seek re-election to the state Legislature in 2012 and instead became one of 10 Republicans vying for their party's nomination to replace retiring U.S. Rep. Ron Paul. Weber failed to win a majority of the votes cast during the state's May primary, but advanced and won a July runoff against Felicia Harris, an attorney and member of the Pearland City Council.
Paul, who had not previously endorsed any of the candidates hoping to replace him in Congress, formally threw his support behind Weber in June. Gov. Rick Perry also endorsed Weber's campaign.