Renee Ellmers
House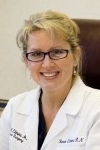 Birthdate: Feb. 9, 1964
Birth Place: Ironwood, MI, United States
Residence: Dunn, NC
Religion: Catholic
First Elected: 2010
Gender: Female

Candidacy
Party: Republican
State: North Carolina
Office: House
District: District 2

Education
Undergraduate: Oakland University
Degree: BS

Renee Ellmers was born in Ironwood, Mich., and resides in Dunn, N.C. She earned a bachelor's from Oakland University and is a registered nurse.
She was elected to the U.S. House in 2010.
Ellmers and her husband, Brent, a general surgeon, run a wound clinic in Dunn. They have a son.
Profile
Renee Ellmers, a tea party favorite, is wrapping up her freshmen term in the U.S. House.
Ellmers upset seven-term Democratic Rep. Bob Etheridge by fewer than 1,500 votes in 2010. The district has since been redrawn to be more favorable to Republicans.
She says she got involved in politics after the passage of the 2010 health care reform bill, which she staunchly opposes.
When conservative concern about health care reform mounted in the summer of 2009, Ellmers began speaking to groups about what she saw as a government takeover of health insurance. She is a self-described tea party conservative and participated in a bus tour coordinated by the pro-business group Americans for Prosperity, which was organizing opposition to health care reform.
Ellmers is a social conservative who says she believes marriage is between one man and one woman. She opposes abortion and believes life begins at conception.
Source: Associated Press