Richard 'Dick' Green Lugar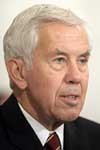 Birthdate: April 4, 1932
Birth Place: Indianapolis, IN, United States
Residence: Indianapolis, IN
Religion: Methodist
Gender: Male

Candidacy
Education
Dick Lugar was born in Indianapolis, where he still lives. He earned a bachelor's degree at Denison University in 1954 and was named a Rhodes Scholar. He earned a master's at the University of Oxford in 1956.
Lugar served in the Navy from 1957 to 1960. He was an executive of Lugar Stock Farms Inc., a livestock and grain operation.
Lugar was on the Indianapolis Board of School Commissioners from 1964 to 1967 and was mayor of Indianapolis from 1968 to 1975.
Lugar ran unsuccessfully for the U.S. Senate in 1974, losing to incumbent Democratic Sen. Birch Bayh. He won election to the Senate in 1976, defeating incumbent Democratic Sen. Vance Hartke.
Lugar and his wife, Charlene, have four sons.
Profile
Dick Lugar lost a grueling battle for re-election in May 2012 after Republican voters rejected him overwhelmingly in favor of his tea party backed opponent, Indiana Treasurer Richard Mourdock.
Ironically, Lugar's iconic status in Washington diplomatic circles and among Indiana's Republican brass helped contribute to his 20-point loss. Throughout his final campaign ground-level Republicans commented that the six-term senator had become disconnected from Indiana. Lugar did nothing to help himself when he struggled to explain why he sold his Indianapolis home in 1977 and had not owned a home in the state since.
Lugar has been mentioned as a potential addition to any Cabinet, regardless who wins the White House in the November 2012 general election. Secretary of State Hillary Clinton's announcement in March 2011 that she would not return for a second run in President Barack Obama's administration could be a potential opening for Lugar.
A highlight of Lugar's career has been the nuclear disarmament program he crafted with former Georgia Sen. Sam Nunn that has helped capture "loose nukes" in the former Soviet Union. His non-proliferation work has earned Lugar nominations for the Nobel Peace Prize.
One of Lugar's last major efforts was leading the approval of a landmark nuclear treaty with Russia in December 2010. The treaty pushed by President Obama's administration would shrink the massive nuclear arsenals of both Russia and the United States.
Lugar isn't afraid to buck his party. Although he has backed many initiatives proposed by Republican presidents, he has criticized them, too.
During the 2008 presidential race, then-senator and presidential candidate Obama touted his work with Lugar on the Senate Foreign Relations Committee, where Lugar is the ranking Republican; one TV ad showed them together as the announcer described Obama as a leader on arms control.
Lugar was frequently mentioned as a potential secretary of state in an Obama administration and met with Obama to discuss foreign policy about a week after the 2008 election. Lugar did discuss details of the conversation but said he made it clear to Obama that he wanted to stay in the Senate.
Lugar voted in late 2008 for the federal bailout of the ailing financial industry. But in early 2009, he voted against the approximately $800 billion economic stimulus package, saying it contained spending on too many programs he believed would not improve the economy.
On March 18, 2009, Lugar cast his 12,000th vote in the Senate, ranking him 13th on the all-time Senate voting list. The Senate's leading Republican, Mitch McConnell of Kentucky, called it a major milestone.
"No one in the Senate commands more bipartisan respect," McConnell said.
Lugar has described himself as a moderate and an activist, someone "who makes things happen. I believe I have a unique understanding of state and local government."
Indeed, Lugar's life has been one that politicians covet: He was an Eagle Scout, first in his high school class, Phi Beta Kappa at college, a Rhodes Scholar and co-president of student government with the woman who became his wife. He is regarded as one of the most popular politicians in Indiana history.
While chairman of the Senate Foreign Relations Committee, he at times criticized President George W. Bush's administration for failing to acknowledge the long-term costs and commitments involved with the war in Iraq.
Lugar used his years of Senate experience and a proposal to abolish the federal income tax as the springboard for a 1996 presidential campaign. However, his campaign labored under the shadows cast by front-runners Bob Dole and Phil Gramm _ whose aggressive campaign styles seemed to draw more support than Lugar's thoughtful, buttoned-down approach _ and he ultimately dropped out.
Source: Associated Press