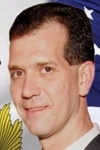 Birthdate: Oct. 2, 1966
Birth Place: Chicago, IL, United States
Residence: Hometown, IL
Religion: Christian Reformed
Gender: Male

Candidacy
Education
Richard Grabowski grew up in the south and southwest neighborhoods of Chicago. He attended Morraine Valley Community College in Palos Hills but left without earning a degree.
Grabowski says is a materials supervisor at a manufacturer in Chicago's western suburbs. He describes himself as part of "the real world working class."
Grabowski and his wife, Linda, have four sons.
Profile
Richard Grabowski considers himself David challenging a Democratic Goliath with an empty slingshot. His question for voters is, "Do you have the stones to help make it happen?"
He told the ElectionInfo blog that he hopes serving in Congress will teach his sons "honesty, integrity, a hard work ethic, be willing to make tough choices necessary to maintain your freedoms."
Grabowski won almost 60 percent of the vote in the March 2012 Republican primary against two opponents. In the November general election he faces Democrat Dan Lipinski who has held the seat since 2005.
Illinois' 3rd District includes parts of Cook, Will and DuPage counties. Lipinski's father, Bill Lipinski, previously held the seat. Grabowski says that his father arranging for him to replace him was "the first of several south-side familial arranged nepotism handoffs in Illinois's past political decade of Democratic decadence."
Grabowski's chief focus is on fighting what he considers unethical Democratic domination of the congressional district and the state as a whole.
He warns that American freedoms are threatened by "tyrannical Cultural Marxist and Socialists on our own soil."
Grabowski says he wants to reduce taxes and cut federal spending, although his website offers no specific proposals. He calls for tougher immigration laws and pro-business policies. A former Roman Catholic who now attends a Christian Reformed church, Grabowski opposes abortion.
Source: Associated Press