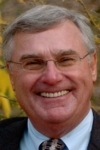 Birthdate: Dec. 30, 1946
Birth Place: Grand Rapids, MI, United States
Residence: Helena, MT
Religion: Christian
Gender: Male

Candidacy
Education
Rick Hill was born in Grand Rapids, Mich., and grew up in Atkin, Mont. He graduated with a bachelor's degree from Saint Cloud State University and a law degree from Concord School of Law.
Hill overcame a childhood bout of polio and talks about being raised in a small apartment in the back of his father's repair shop.
Hill was elected to Congress in 1996 and served two-terms.
In the early 1990s, he led an effort by then-Gov. Marc Racicot to fix issues with the state's workers compensation program.
Hill and his wife, Betti, live in Helena. He has three adult sons from his first marriage.
Profile
Rick Hill won a bruising seven-way primary in 2012 as Republicans seek to retake the governor's mansion they lost in 2004. Incumbent Democratic Gov. Brian Schweitzer is prevented by term limits from seeking re-election.
The primary campaign forced Hill to dip into his campaign coffers, putting the former congressman at an initial disadvantage to his well-financed general election opponent, Democratic Attorney General Steve Bullock, who faced only token primary opposition.
Hill has referred to Bullock as a candidate for trial lawyers and environmentalists who is too liberal for Montana.
He derided Bullock's proposed $400 property-tax rebate as a "one-time gimmick" that will not stimulate the economy. He favors a permanent tax cut funded by surplus revenues from energy resource development.
Hill has campaigned on Republican staples of reducing government spending, hurdles to business and natural resource development, and lowering taxes.
Job creation has been a central theme, as Hill has promised to create 30,000 to 40,000 new jobs during his first term. He says that natural resource development can be spurred by using the executive branch's rulemaking authority, and does not require changes in the state's constitutional environmental protections or in federal land management policies.
Hill opposes legalized abortion and gay marriage.
Decade-old emails became a campaign issue for Hill in 2012. Critics said they indicated Hill got a "sweetheart deal" to lease office space to the state when his wife was working for former Republican Gov. Judy Martz.
The messages show Betti Hill, who was Martz's special projects director at the time, used a state email account to discuss leases with other state officials and help arrange meetings on the issue. She wrote that an "active party leader" and others were part of an ownership group of the building, and that her husband wanted a meeting with the state about the future of state leases.
The Hill campaign has said there was nothing wrong with the meetings and that the leases were negotiated at or below market value.
Hill was elected to the state's lone congressional seat in 1996 and re-elected in 1998.
During his time in Congress, Hill generally followed the GOP line, although he sometimes bucked his party colleagues.
Noteworthy votes in the House included his support for impeachment against then-President Bill Clinton. He took a strict line against gun control and voted to override a presidential veto of a ban on partial-birth abortions.
He declined to seek re-election in 2000, citing a degenerative health condition affecting his eyesight. Hill has said the condition has since been repaired.
Source: Associated Press