Richard 'Rick' John Santorum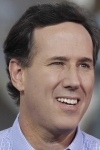 Birthdate: May 10, 1958
Birth Place: Winchester, VA, United States
Residence: Leesburg, VA
Religion: Roman Catholic
Gender: Male

Candidacy
Education
Rick Santorum was born in Winchester, Va., and lives in Leesburg, Va. He graduated from Pennsylvania State University, University of Pittsburgh and Dickinson School of Law.
He was elected to the U.S. House of Representatives in 1990 and served in the U.S. Senate from 1995 to 2007.
Rick and his wife, Karen, have seven children.
Profile
Former Pennsylvania Senator Rick Santorum is looking for a comeback.
A lawyer by training, he has been laying the groundwork for a presidential run since he lost a bruising bid in 2006 for re-election to the Senate.
The blunt talker is popular among social conservatives for his opposition to abortion, gay marriage and embryonic stem-cell research. While his appeal comes from his conservative stance on issues, his sometimes abrasive style is what alienated voters in Democratic-leaning Pennsylvania.
Since he has been out of elected office, critics say he lacks the robust fundraising or personal wealth of his rivals.
Santorum was elected to the House in 1990 at age 32. He shot to prominence as one of the "Gang of Seven" freshman Republicans who bucked their leadership and helped to expose fellow lawmakers who had abused checking privileges at the now-defunct House bank. In 1994, the scandal helped the GOP capture control of the House.
That same year, Santorum beat Democratic Sen. Harris Wofford and emerged as a conservative force in the Senate, attaining the No. 3 leadership spot.
He successfully pushed a bill that banned late-term abortions. In 2005, Time magazine named him among the nation's 25 most influential evangelicals.
Santorum held his Senate seat for 12 years before losing in 2006 to Democrat Bob Casey, the son of a popular former governor, as part of an anti-war, anti-incumbent tide.
But he's also been hurt by controversy spawned by his conservative views.
Santorum drew sharp criticism after saying in 2003 that he believed states had the right to ban gay sex or other private behaviors "antithetical to a healthy, stable, traditional family." While the U.S. Supreme Court deliberated the constitutionality of a Texas sodomy law, Santorum said: "If the Supreme Court says that you have the right to consensual sex within your home, then you have the right to bigamy, you have the right to polygamy, you have the right to incest, you have the right to adultery." The justices struck down the Texas law.
His words sparked protest, particularly among gay rights supporters and Democrats.
Santorum later said his remarks were in the context of a past Supreme Court ruling on privacy and were not meant as "a statement on individual lifestyles."
Since losing his Senate seat, Santorum has given speeches and worked at a conservative think tank and as a cable news channel commentator.
In his presidential bid, Santorum has promised to create more jobs. He often mentions his goal to reinvigorate the American dream of working hard to achieve success, as his immigrant grandfather who came from Italy in 1927 did, working as a coal miner.
"If they work hard, they can succeed. That's the America my grandfather came to. That's the America my dad lived in," Santorum said. "That's the America we need again today."
Source: Associated Press