Richard 'Rick' Michael Nolan
Richard 'Rick' Michael Nolan
House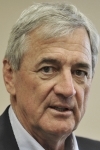 Birthdate: Dec. 17, 1943
Birth Place: Brainerd, MN, United States
Residence: Crosby, MN
Religion: Catholic
Gender: Male

Candidacy
Party: Democratic
State: Minnesota
Office: House
District: District 8

Education
Undergraduate: University of Minnesota
Degree: BA

Graduate: St. Cloud State College
Degree: Attended

Graduate: University of Maryland
Degree: Attended

Rick Nolan was born and raised in Brainerd, Minn., and currently resides on a small farm in Crosby. He received a bachelor's degree in political science from the University of Minnesota. He did graduate work at St. Cloud State College and the University of Maryland.
Nolan won a seat in the Minnesota House in 1968 as a member of the nonpartisan liberal caucus, before the Legislature adopted modern party labels. He lost his first race for Congress as the Democratic-Farmer-Labor candidate in the 6th District in 1972. Two years later, he won the seat and served in the U.S. House from 1975 until 1981. Nolan did not seek re-election in 1980.
Nolan had a business career that included running his own export company and serving as president of the World Trade Center in St. Paul.
Nolan and his wife, Mary, have four children.
Profile
Rick Nolan hopes to return to Congress three decades after he left by recapturing a northeastern Minnesota seat, the 8th Congressional District, that Democrats have long considered their own.
Nolan is the Democratic nominee running in 2012 against Republican Rep. Chip Cravaack, who upset 18-term Democratic Rep. Jim Oberstar two years earlier. Nolan defeated primary rivals Tarryl Clark, a former state senator, and Jeff Anderson, a former Duluth city councilman, in August 2012.
Nolan told The Associated Press that his years out of elected office have left him more prepared than ever to serve again in Congress.
He represented Minnesota's old 6th Congressional District, which overlaps some southern parts of the current 8th Congressional District, from 1975 to 1981. In the House, Nolan focused on farming and rural development issues and foreign policy. He served on the Agriculture Committee and headed a subcommittee on family farms. He was the chief sponsor of a rural development act that President Carter signed into law. He helped negotiate the release of American political prisoners held in Cuba.
After leaving Congress, Nolan ran his own export firm and helped establish the World Trade Center in St. Paul. He also worked as a real estate broker and bought and turned around a small sawmill in Emily, Minn.
During the primary, Clark accused Nolan of "a blatant misuse of taxpayer dollars" for getting a bonus as World Trade Center president. Nolan called her attack "gutter politics."
Nolan said he decided to run after trying to recruit a Democrat to challenge Cravaack and being turned down by several people. He supports ending what he calls "wars of choice" in Afghanistan and Iraq, protecting Medicare and Social Security in their current forms, raising income taxes on the highest earners and establishing a single-payer national health care system. Nolan is attacking Cravaack for supporting GOP vice presidential candidate Paul Ryan's Medicare proposal to put future retirees in private plans.
Oberstar is backing Nolan's bid for his old seat.
On social issues, Nolan's support of abortion rights puts him to the left of Oberstar, who opposed legalized abortion. The political arm of Emily's List, which supported Clark's candidacy, attacked Nolan during the primary for not supporting abortion rights strongly enough.
Nolan is also balancing support for precious metals mining on the Iron Range, a major priority for Cravaack, with concerns about environmental protections. He proposed establishing a federal institute on mining and the environment on the Iron Range, drawing criticism for suggesting government spending without a guarantee of job creation.
Nolan is emphasizing his family's long history in northern Minnesota without mentioning that Cravaack's family moved to New Hampshire.
Source: Associated Press