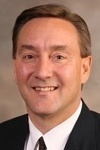 Birthdate: Aug. 16, 1959
Birth Place: Maddock, ND, United States
Residence: Fargo, ND
Religion: Lutheran
Gender: Male

Candidacy
Education
Rick Berg was born in Maddock, N.D., and now lives in Fargo. He attended the North Dakota State College of Science for one year before transferring to North Dakota State University, where he earned a bachelor's in agricultural economics.
Berg was an early partner in Goldmark Property Management Inc., a Fargo real estate management and development company, which was founded in 1981. He is a senior vice president of one of the company's subsidiaries, Goldmark Schlossman Commercial Real Estate Services Inc., and specializes in commercial property development.
He was elected to the North Dakota House in 1984, serving as speaker in 1993. He served as Republican majority leader for three sessions before announcing in 2008 that he would not seek re-election in 2010. He was elected to the U.S. House in 2010.
Berg and his wife, Tracy, have a son.
Profile
After toppling longtime Democratic U.S. Rep. Earl Pomeroy to win North Dakota's only U.S. House seat in 2010, Rick Berg was in office for barely five months before he began his campaign for the U.S. Senate in May 2011. His 2012 campaign themes have been markedly similar to the ones that proved successful against Pomeroy.
Berg has emphasized reducing taxes, federal spending and federal regulation, measures he says will encourage economic growth and more business hiring. Berg advocates repealing the federal health care law that was recently upheld by the U.S. Supreme Court.
The first job of Congress, Berg says, is "to create an environment that encourages business to grow and thrive in the private economy."
"The Washington model of more government, more regulation, and more taxation is not the answer to our economic problems," Berg said.
Berg brushed aside a June 2012 primary challenge from Republican Duane Sand, a Bismarck businessman and frequent candidate for Congress. Berg won the nomination with 66 percent of the vote.
Sand argued that Berg has been too accommodating to proposals to raise federal spending and increase borrowing, pointing to Berg's support for raising the federal debt limit.
Democrats have attacked Berg for his backing of a long-term federal budget plan offered by Wisconsin Rep. Paul Ryan, chairman of the House Budget Committee. The blueprint, Democrats say, would hurt farm programs, cut Medicare services and reduce taxes on wealthy people.
Heitkamp has hit Berg for his advocacy of repealing the federal health care law, saying it would result in young adults losing their parents' insurance coverage and allow insurers to deny coverage to people with existing health problems.
Berg was a Fargo state legislator for 26 years before he ran against Pomeroy in 2010. He served as the North Dakota House's majority leader and one term as the House speaker.
Berg is a partner in a Fargo property development and management firm, and his voting record is decidedly pro-business.
He has backed corporate and individual income tax cuts, advocated reducing the state's top tax rate on oil production and supported exempting clothing sales from North Dakota's 5 percent sales tax.
Source: Associated Press