William Robert 'Rob' Woodall, III
William Robert 'Rob' Woodall, III
House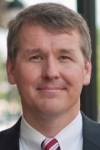 Birthdate: Feb. 11, 1970
Birth Place: Athens, GA, United States
Residence: Lawrenceville, GA
Religion: Methodist
First Elected: 2010
Gender: Male

Candidacy
Party: Republican
State: Georgia
Office: House
District: District 7

Education
Graduate: University of Georgia
Degree: JD

Undergraduate: Furman University
Degree: BA

Rob Woodall was born in Athens, Ga., and lives in Lawrenceville. He graduated from Furman University in Greenville, S.C., in 1992 and enrolled in the University of Georgia School of Law the same year.
While working at a law firm in Washington during the summer, Woodall decided to leave law school in 1994 and work for his hometown congressman, Rep. John Linder. He eventually returned to law school at night and graduated in 1998.
Woodall began work in Linder's office as a legislative correspondent, which included handling constituent service, and after a series of promotions was named Linder's chief of staff in 2000.
He's a co-author with Linder and libertarian talk show host Neal Boortz of "Fair Tax: The Truth," which was published in 2008. The book advocates replacing the federal income tax with a national sales tax.
Woodall is single.
Profile
Rob Woodall is seeking a second term after winning Georgia's 7th Congressional District in the Republican sweep of 2010. He will face Democrat Steve Reilly in the November 2012 general election.
Though it was retooled slightly after the 2010 census, Woodall's district remains centered on Gwinnett County, east of Atlanta. The district has seen explosive growth over the past few decades, with a notable increase in minority population. Still, Republicans have dominated the county's politics, and Woodall is a heavy favorite to win a second term. He won two-thirds of the vote in 2010.
As a deputy for Rep. John Linder, Woodall became involved in the congressman's drive to replace the federal income tax with a national sales tax, a proposal that supporters call a "fair tax." He helped co-author a book with Linder and libertarian talk show host Neal Boortz titled "Fair Tax: The Truth," to support the proposal. It was a best-seller on The New York Times list.
Woodall has campaigned against the 2009 approximately $800 billion economic stimulus package and bank bailout programs, both backed by President Barack Obama. He supports ending automatic citizenship for the children of illegal immigrants and wants tighter security along the nation's borders.
He also opposes the 2010 health care reform bill. Woodall expressed disappointment in the June 2012 decision by the Supreme Court to uphold the legislation both for upholding the legislation and for the precedent set by the Court in the decision.
"I will continue to dig deep into the reasoning of the court, but my first understanding is that with this ruling, the Supreme Court has determined that the U.S. Constitution grants Congress unlimited authority to control the lives of American citizens. This is a tremendous blow to freedom as I understand freedom," he said. "We can't put the flawed reasoning of the Court back in the bottle, but we can continue to try to repeal the President's health care bill and all of the troubling mandates that it contains, and I am committed to doing so."
But he is not always in lockstep with his party. Woodall is among a handful of House Republicans who refused to sign Grover Norquist's Taxpayer Protection Pledge in May 2012. Woodall explained that his tax proposals made it impossible for him to endorse a Norquist pledge provision to "oppose any net reduction or elimination of deductions and credits, unless matched dollar for dollar by further reducing tax rates."
Source: Associated Press