Robert 'Bob' A. Brady
House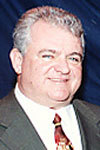 Birthdate: April 7, 1945
Birth Place: Philadelphia, PA, United States
Residence: Philadelphia, PA
Religion: Catholic
First Elected: 1998
Gender: Male

Candidacy
Party: Democratic
State: Pennsylvania
Office: House
District: District 1

Education
Bob Brady was born in Philadelphia, where he still lives.
Brady has said he was offered college athletic scholarships, but chose instead to become a carpenter. He eventually became a lobbyist for the carpenters' union and then entered politics.
He has served as Philadelphia's Democratic Party chairman since 1986.
Brady was elected to the U.S. House in a May 1998 special election to fill the remaining term of Democratic Rep. Thomas Foglietta, who resigned to become U.S. ambassador to Italy. He was elected to a full term in November 1998.
Brady and his wife, Debra, have two children.
Profile
Bob Brady got his start in politics in 1965, when the Democratic committeeman for his voting district failed to fix a burned-out streetlight outside his mother's house.
He said the committeeman was too busy to care about replacing the bulb and had been curt with his mother. He decided to run for a party position himself and became the committeeman's partner a few months later.
He has been a member of Congress since May 1998, when he won a special election to fill the remaining term of Democratic Rep. Thomas Foglietta, who resigned to become U.S. ambassador to Italy. He represents Pennsylvania's 1st Congressional District that covers about a third of Philadelphia and several communities in neighboring Delaware County.
With a farm bill proposal pending in Congress that would cut $13.4 billion from the food stamp program, Brady in April 2012 joined other officials in pledging to live on $35 worth of food for the next week in what they said was an effort to show how hard it is to subsist on government benefits. His district has one of the highest hunger rates in the nation, and he said he wanted to show "just how outrageous the cuts are and how outrageous the means tests are."
Brady voted in February 2009 for the approximately $800 billion economic stimulus package backed by President Barack Obama. That month, Brady also participated in the first meeting of the Middle Class Task Force headed by Vice President Joe Biden. The group met in Philadelphia to focus on green job creation.
Brady voted in 2008 for the $700 billion financial industry bailout package, saying "I'm not happy about this whole plan. But it is a much better bill than the three-page power grab the president tried to force down our throats two weeks ago."
He also voted for the 2010 health care reform bill. He called the June 2012 Supreme Court decision upholding the measure a victory not only for President Barack Obama but also for the American people. "My only concern is that the Court removed the ability to ensure that states expand Medicaid to hard hit Americans like my constituents," he said in a statement. "We'll have to keep working to improve on that provision."
Brady is known for frequently mediating labor disputes. He helped settle in June 2008 a contract disagreement between Philadelphia's transit agency and its police officers. He again helped during a Philadelphia transit strike in the fall of 2009 and a month-long nurses' strike at Temple University Hospital in the spring of 2010.
Brady began his reign as Philadelphia's Democratic Party chairman in 1986. He is the spiritual leader of city Democrats and helped rally re-election support for former Mayor John F. Street after an FBI bug was found in his office in 2003. Brady also turned out votes for former Philadelphia Mayor Ed Rendell's successful run for governor in 2002.
But he was unable to muster much support for his own run for Philadelphia mayor in 2007, fairing poorly in a five-way primary; he came in well behind winner Michael Nutter and runner-up Tom Knox.
In Washington, Brady has focused on urban issues and bringing federal dollars to Philadelphia. He's remained steadfastly loyal to organized labor and active in Philadelphia politics.
Brady in 2012 worked to secure funding to open the first supermarket in more than a decade in the impoverished city of Chester. Officials from Philabundance, a nonprofit organization best known for collecting and distributing emergency food aid, said the 13,000-square-foot "Fare and Square" grocery store will be the first supermarket in the country operated by a food aid group as a nonprofit venture when it opens in 2013.
The store would provide about 30 jobs in the hard-pressed community, but more importantly will provide healthy food for residents, Brady said.
He was chairman from 2007 to 2010 and is currently the ranking Democrat of the House Administration Committee, which oversees operations of the House and federal election procedures. Brady typically votes with the Democratic Party, including pushing for U.S. troop reductions in Iraq.
Source: Associated Press