Robert 'Bob' Edward Latta
Robert 'Bob' Edward Latta
House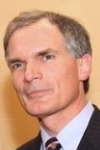 Birthdate: April 18, 1956
Birth Place: Bluffton, OH, United States
Residence: Bowling Green, OH
Religion: Roman Catholic
First Elected: 2007
Gender: Male

Candidacy
Party: Republican
State: Ohio
Office: House
District: District 5

Education
Undergraduate: Bowling Green State University
Degree: BA

Graduate: University of Toledo
Degree: JD

Bob Latta was born in Bluffton, Ohio, and resides in Bowling Green. He earned a bachelor's in education from Bowling Green State University and a law degree from the University of Toledo.
He served as a Wood County commissioner from 1990 to 1996. He was elected to the Ohio Senate in 1996, serving until he was elected to the Ohio House in 2000.
He won a special election to the U.S. House in 2007.
Latta and his wife, Marcia, have two daughters.
Profile
Bob Latta won a special election to the U.S. House in 2007 and has since become a vocal critic of President Barack Obama and other Democrats in Washington.
Latta was highly critical of Obama's support of a birth control policy that would have forced religious schools and hospitals to provide contraceptive coverage for their employees. A tweaking of the rule that allowed those employees free coverage directly from their health insurer didn't satisfy Latta.
"President Obama's announcement is an affront to freedom," Latta said in February 2012. "Plain and simple, President Obama's decision is an assault to the First Amendment. It is an accounting gimmick that ignores the conscience rights of Americans."
A member of the House Energy and Commerce Committee, Latta says Obama has done little to keep down the price of oil and had been slow to approve oil drilling leases that could help contain costs. "President Obama hasn't hinted that he will increase energy supplies," he said in a 2012 press release.
Latta resisted pressure in October 2008 to vote for the $700 billion financial industry bailout. His vow that he would not allow a negative reaction from Wall Street to influence him came as no surprise.
He is a quiet social and fiscal conservative, starting his political training as a boy while tagging along with his father, Rep. Delbert Latta, who spent 30 years in Congress, from 1959 until he retired in 1989. Along the way, the elder Latta taught his son the conservative values they now share. The younger Latta ran unsuccessfully in 1988 to replace his father in the House, but lost the GOP primary by 27 votes.
Latta was tapped in 2008 by GOP presidential candidate Sen. John McCain to be co-chair of Ohio Sportsmen for McCain, a gun rights group.
During his time in the Ohio Legislature, Latta concentrated mainly on taxes and crime issues and was chairman of the House Criminal Justice Committee.
He successfully pushed for a cut in estate taxes, saying it would protect family farms and small businesses trying to pass their assets from generation to generation. He also sought to ban elected officials from receiving both their salary and their pension payments by retiring after being re-elected and then taking their old job back.
He sponsored bills increasing sentences for young people who used guns and raising penalties for repeat drunken drivers. Latta also sponsored a bill requiring all convicted felons to submit DNA samples that could then be used as evidence in unsolved crimes. Prisoner and crime-victim advocates argued that the state database of DNA samples could be abused.
Latta proudly points out that he never missed a vote while in the state Legislature.
Source: Associated Press