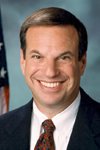 Birthdate: Sept. 4, 1942
Birth Place: Pittsburgh, PA, United States
Residence: San Diego, CA
Religion: Judaism
Gender: Male

Candidacy
Education
Bob Filner was born in Pittsburgh and now lives in San Diego. He attended Cornell University where he earned a bachelor's in chemistry and a doctorate in history. He earned a master's in history from the University of Delaware-Wilmington.
He took part in the early 1960s in the Freedom Rides on buses throughout the South that tested the Supreme Court decision declaring segregated facilities for interstate passengers illegal. He was imprisoned for two months in Mississippi in 1961 for inciting a riot.
Filner served on the San Diego Board of Education from 1979 to 1983. He served two terms on the San Diego City Council starting in 1987. He was elected to the U.S. House in 1992.
He announced in June 2011 that he would run for mayor of San Diego. He is not running for re-election to the U.S. House in 2012.
Filner and his wife, Jane, have two children.
Profile
Bob Filner became chairman in January 2007 of the House Veterans' Affairs Committee. He became increasingly focused on issues important to veterans and hasn't shied from criticizing the Department of Veterans Affairs.
Filner held a hearing in St. Louis in July 2010 after the department sent letters warning 1,812 veterans treated at a St. Louis dental clinic that lapses in sterilization of dental equipment potentially exposed them to viruses including hepatitis B, hepatitis C and HIV. Finer said his concerns extended beyond inadequate sterilization, and he questioned why problems were substantiated in March 2010 but no one was told until June.
Filner announced his bid for mayor of San Diego in June 2011. He is not running for re-election to his House seat in 2012.
Filner called VA Secretary and former Army Surgeon General James Peake before his committee in May 2008 to answer questions about e-mails that had surfaced suggesting VA officials were hiding the number of veterans who were trying to commit suicide.
He clashed with former VA Secretary Jim Nicholson in 2006, calling for Nicholson to be held accountable after it was revealed the personal data for 26.5 million veterans had been stolen. Nicholson stepped down in October 2007.
Filner sponsored legislation in July 2008 that would have required any American flag flown on federal property to have been made in the United States.
He has worked to restore benefits to Filipino veterans from World War II.
Filner found himself in the midst of controversy in August 2007 after getting into an argument with a baggage handler at Dulles International Airport. Authorities in Loudon County, Va., initially filed assault-and-battery charges against Filner, who entered a no-contest plea to misdemeanor trespassing charges. He was fined $100 and agreed to send an apology letter to the baggage worker who accused him of trying to shove past her into an employee-only area after his bags were delayed.
The 51st District spans California's entire border with Mexico and Filner calls himself "California's Border Congressman." He has devoted much of his attention to immigration, border security, and trade and economic cooperation with Mexico.
He has opposed construction of a border fence, advocated for shorter wait times at border crossings and supported "comprehensive immigration reform" that includes a path to citizenship for illegal immigrants.
Source: Associated Press