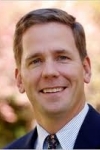 Birthdate: June 23, 1969
Birth Place: Evanston, IL, United States
Residence: Kenilworth, IL
Religion: Christian
First Elected: 2010
Gender: Male

Candidacy
Education
Bob Dold was born in Evanston, Ill., the son of two entrepreneurs in the pest control industry, and now resides in Kenilworth. He earned a bachelor's from Denison University, a law degree from Indiana University and a master's in business administration from Northwestern University.
Dold served as an aide in President George H.W. Bush's White House, spent time as a congressional staffer, and worked on the 1996 presidential campaign of Sen. Robert Dole.
He ran Rose Pest Solutions, a small company founded in 1860. His father and grandfather also worked for the Northfield-based company, and his parents were both leaders of the National Pest Management Association, which Dold's father started.
Dold was elected to the U.S. House in 2010.
He and his wife have three children.
Profile
Bob Dold has stood out from the four other Illinois Republican U.S. House freshmen elected in 2010 by casting himself as a moderate.
He won election in a tight contest against three-time candidate and businessman Dan Seals for the seat once held by U.S. Sen. Mark Kirk, pitching himself on the campaign trail as a middle of the road Republican.
The other congressional newcomers representing Illinois _ Reps. Joe Walsh, Bobby Schilling, Randy Hultgren and Adam Kinzinger _ have been loyal conservative votes. But in Washington, Dold has sought to strike a balance between the conservative base in his party and his own more moderate views.
In particular, he has strayed from party orthodoxy by supporting abortion rights. In May 2012, he introduced the Protecting Women's Access to Health Care Act, which would prevent lawmakers from blocking federal family-planning funds to Planned Parenthood because some of its clinics provide abortions.
"As a pro-choice Republican, I believe that this legislation is critical because it ensures nondiscrimination ..." he said in a statement. "We should not discriminate against hospitals and organizations that provide access to basic, preventative, and in some cases life-saving services for so many underprivileged women ..."
Dold faced no challenger in Illinois' March 2012 Republican primary. He faces Democrat Brad Schneider in the November general election for the Chicago-area's newly drawn 10th District, which appears to favor Democrats.
Source: Associated Press