Robert 'Bob' William Goodlatte
Robert 'Bob' William Goodlatte
House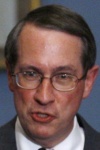 Birthdate: Sept. 22, 1952
Birth Place: Holyoke, MA, United States
Residence: Roanoke, VA
Religion: Christian Science
First Elected: 1992
Gender: Male

Candidacy
Party: Republican
State: Virginia
Office: House
District: District 6

Education
Undergraduate: Bates College
Degree: BA

Graduate: Washington and Lee University
Degree: JD

Bob Goodlatte was born in Holyoke, Mass., and now resides in Roanoke, Va. He earned a bachelor's degree in government from Bates College in 1974 and a law degree from Washington and Lee University in 1977.
He served as district office manager for then-Rep. M. Caldwell Butler from 1977 to 1979. Afterward, he practiced law in Roanoke and worked on numerous Republican campaigns in Virginia.
He was elected to the U.S. House in 1992.
Goodlatte and his wife, Maryellen, have two children.
Profile
Bob Goodlatte represents Virginia's 6th Congressional District, a Republican stronghold of small and medium-sized towns in the Shenandoah Valley made even safer for the GOP after the 2012 redistricting.
He has called the June 2012 U.S. Supreme Court's decision upholding the 2010 health care reform bill disappointing. He voted in favor of repealing the law when it was brought up on the House floor just weeks after the court ruled.
In 2012, he tried unsuccessfully to bring changes to federal sugar policy that for eight decades has protected beet and sugarcane growers and sugar refiners by controlling prices and limiting imports. Goodlatte argued that government supports drove up prices and forced food companies to move overseas.
He sponsored a balanced budget amendment that was approved in November 2011 by a majority of House members but fell short of the two-thirds required for an amendment. "While our workers are being held back by Washington, there's nothing in place to stop the federal government from bankrolling further big government spending _ the kind that leads to government expansion into private-sector jobs, burdensome mandates on job creators and skyrocketing national debt," he said in September 2011.
The House passed in early 2009 a press shield bill co-sponsored by Goodlatte, who said reporters must be allowed to keep news sources confidential to root out fraud and waste and promote the free exchange of information.
Goodlatte in 2009 supported freezing government spending and reintroduced two previously unsuccessful measures: a constitutional amendment requiring a balanced budget, and legislation scrapping the tax code and requiring Congress to develop a new one.
Goodlatte opposed the 2009 approximately $800 billion economic stimulus package.
Goodlatte has made his fight against government waste a consistent theme of his congressional tenure. He once proposed six reform bills, including a measure to cut in half each congressman's franking budget and a proposal to lower the federal pensions of retired lawmakers to the level of the average federal worker.
When debate began regarding granting statehood to Washington, D.C., Goodlatte and other opponents called the proposal unconstitutional and said Congress had an enduring interest in maintaining the district's current status.
"It was never intended that the district was to act as a state," Goodlatte said. "It was the intention of the founders to make it the federal city."
Goodlatte joined three other congressmen in 2007 in sponsoring bills to give school districts a one-year grace period to comply with a federal law that requires children who are learning English to take the same reading tests as their native-speaking peers.
Goodlatte has focused on cyber security and cyber crime, and he co-sponsored legislation to combat the criminal use of Internet spyware. He sponsored legislation in 2006 to curb Internet gambling, including a prohibition against using credit cards to settle online bets.
He has supported a capital gains tax cut, more tax incentives for saving and fewer regulatory burdens on businesses.
Goodlatte opposes abortion except in cases of rape, incest or to save the mother's life. He supports the death penalty.
He has been at the center of debates about the effects of World Trade Organization actions on U.S. farmers.
Goodlatte joined the state's four other Republican U.S. House members in calling in 2009 for the resignation of the Virginia Republican Party's embattled chairman, Jeff Frederick. The move urging Frederick _ then a member of the House of Delegates _ to step aside was critical to restoring public faith in the state's GOP brand and helped reverse Democratic electoral gains since 2001.
Source: Associated Press