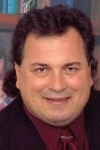 Birthdate: Nov. 29, 1955
Birth Place: Highland Park, MI, United States
Residence: Columbus, OH
Religion: Non-denominational Christian
Gender: Male

Candidacy
Education
Bob Fitrakis was born in Highland Park, Mich., grew up in the Detroit area and now lives in Columbus, Ohio.
The Watergate scandal spurred his interest in studying political science at what is now Grand Valley State University, where he earned a bachelor's degree. Fitrakis then earned a master's and a doctorate in political science from Wayne State University, and later earned his law degree from Ohio State University.
He moved to central Ohio in 1987 when he took a job at Columbus State Community College, where he teaches political science.
As a lawyer, he has focused on civil rights and election laws.
Fitrakis also has worked as a writer for the Columbus Alive newspaper and has hosted a talk show on Columbus community radio. Since 2003, he has served as a commissioner on a community advisory board in Columbus.
He is married to Suzanne Patzer, a supervisor at Columbus State.
Profile
Green Party candidate Bob Fitrakis is campaigning for Congress in 2012 in Ohio's newly created 3rd District, six years after making an unsuccessful bid for governor as an independent candidate supported by the Green Party.
He previously ran for Congress in 1992 as the Democratic candidate in the state's 12th District but lost to Rep. John Kasich, the Republican who went on to become Ohio's governor in 2011.
Fitrakis says that if elected he would introduce an amendment to make voting a constitutional right, and he would call for officials to overturn the Supreme Court's Citizens United decision, which significantly eases political spending restrictions on corporations and unions, giving way to the so-called super PACs that have raised millions for ad attacks on candidates.
"I don't know how you ever get to a point where you equate money and speech," said Fitrakis, who supports the Occupy movement.
To shrink the national debt, he wants to legalize and heavily tax marijuana, charge for all transactions on Wall Street and halve defense spending and the number of military bases. He has called for the United States to withdraw from NATO, saying it has outlived its purpose.
Fitrakis supports the creation of a universal health care system in which everyone pays, participants select their own care providers and private insurance is eliminated.
He says he'd work to close Ohio's nuclear plants and create more jobs in manufacturing renewable energy technology, especially in solar and wind energy. He also opposes the drilling method of hydraulic fracturing, or "fracking," which blasts millions of gallons of chemical-laced water into the earth to fracture shale formations and release oil, natural gas and natural gas liquids such as propane.
Fitrakis is also a supporter of gay marriage.
Source: Associated Press